Travelling can be a stressful experience for many people. The various stages of airline travel from booking flights, to getting to the airport, to checking in, security checks, immigration checks, potential delays… the list goes on and on. However, as a travelling underwater cameraman, there is nothing more stressful (to me) than worrying if your bags have made it to the arrival hall conveyor belt!
Being an underwater cameraman means I literally need everything in my luggage to arrive at its final destination safely in order to perform my job at hand. Within the checked pieces of luggage are dive equipment, camera gear, camera underwater housings, computer peripherals and the odd set of spare clothes and a few toiletries. These days, luggage tends to be safe from theft with advances in security technology such as surveillance cameras and automation. With airport security so high these days, my main concern is if my bags actually make the connection on time or get held up or misplaced at an airport during a transit. Being able to locate my bags quickly wherever they are is a huge weight off my shoulders. I would consider this as an additional layer of insurance for my travels. Enter the modern-day luggage tracker.
There are many forms of tracking devices available on the market. Many of these work well with certain limitations to functionality. The Tile tracker for example uses Bluetooth for a limited range tracking capability. In order to track outside of the Bluetooth range, Tile trackers rely on a community of users that use the same device. However this isn't enough for me. Some of the locations I go to are so remote, they have airports about the size of a small house. It would be unlikely to expect other users of the same device nearby. The only reliable way to track luggage almost anywhere in the world is via a cell phone tower connection. Trackers using this technology use a phone connection via a SIM card to determine its approximate location. While you may be able to purchase a tracking device such as this without an included SIM card easily online, it can be very costly to use your own SIM card with data roaming worldwide.
Early 2G Tracking Devices
My first experience with a tracking device using this technology was with a device called the Trakdot. It literally dropped my stress levels overnight when it came to worrying about my luggage.
The Trakdot worked with AA batteries and a corresponding phone app which could pinpoint my bag's location and tell me if they arrived at my destination. You needed a paid subscription to keep the SIM card active and the device functioning. This was not unlike a regular phone data account with very reasonable fees for maintaining a line (which could data roam worldwide). In fact, Trakdot sold a once off "Lifetime subscription" at times as part of a promotional push.
Sadly, Trakdot worked on 2G technology which is now being phased out completely in many countries. Sites that still sell them such as Amazon do not mention this. I can no longer recommend that you buy the Trakdot. It will not work in most countries now.
The Gego Universal Tracker
Although this device can be used to track virtually anything globally, I use it mainly as a luggage tracking device. This review was written with that purpose in mind.
I was pleasantly surprised by the size and the weight of this tracker. The battery is built in and it has the footprint of a credit card while being just under 1cm thick. It weighs a tiny 49 grams which is much lighter than the Trakdot tracker which worked on 2 AA batteries.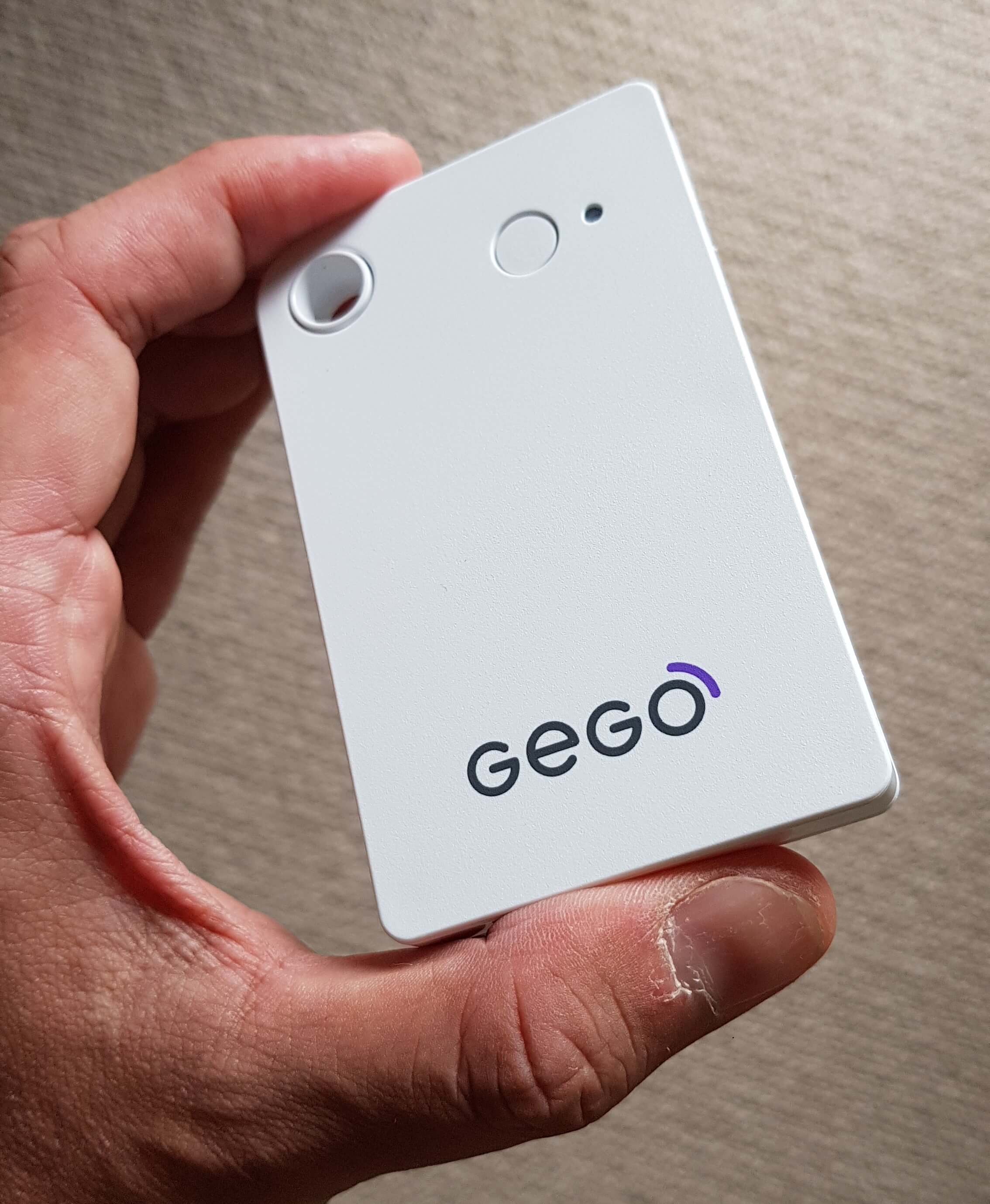 Button and LED indicator
The Tracker has a single LED light and a single button. It isn't as intuitive and I had to search online for some answers about operation. For example, there is NO on or off button! After the Gego is charged and connected to a GSM (mobile phone) network, it simply stays connected. When not in use, it enters a power saving mode that uses almost no power at all. I have yet to check the standby charge limitations with the Gego but I do recommend charging the device fully a day before your trip. Battery levels can be checked via the app.
The LED light stays off to conserve power and is activated by a button press.
A solid Green means the Gego is working properly and is connected to the GSM network
An Orange light indicates that the device is activated but is having trouble connecting to the GSM network.
A Red light indicates a low battery status and the Gego should be charged prior to use.
Holding the button down for 5 seconds will also cause the light to blink 5 times and the Gego will be forced to report its current location to the app on your phone.
Finally, when charging, the LED will blink red slowly and turn green when fully charged. Lights will go off once the device is removed from the charger.
What's in the box
The box comes with the Gego tracker, a charging cable, basic instructions and a set of stickers for you to identify the tracker in the event that you have more than one (I own 3).
The box contains a charging cable, a set of stickers to identify your multiple Gego devices and instructions.
Downloading the App and pairing
When you first get your Gego device, you will need to charge it for 12 hours before first use. This is recommended by the manufacturer. After this, head to the App Store or Google Play on your phone and download the Gego app.
Turn on bluetooth on your phone and open the Gego app. Click on "Add your Gego" and you will be instructed to press and hold the button on the Gego till the light starts to blink. Next, give your Gego a unique name so you can identify it. You can add a photo as well. This photo can be changed and I snap a picture of the luggage the Gego device is used with.
You are then directed to activate a service plan (or can choose to do so later). I suggest activating it only just before your trip. You will need a credit card to make payments for the plan. There are two different types of service plans. An annual plan at US$76 ($6.33 per month) or a monthly plan at just US$7.95 per month.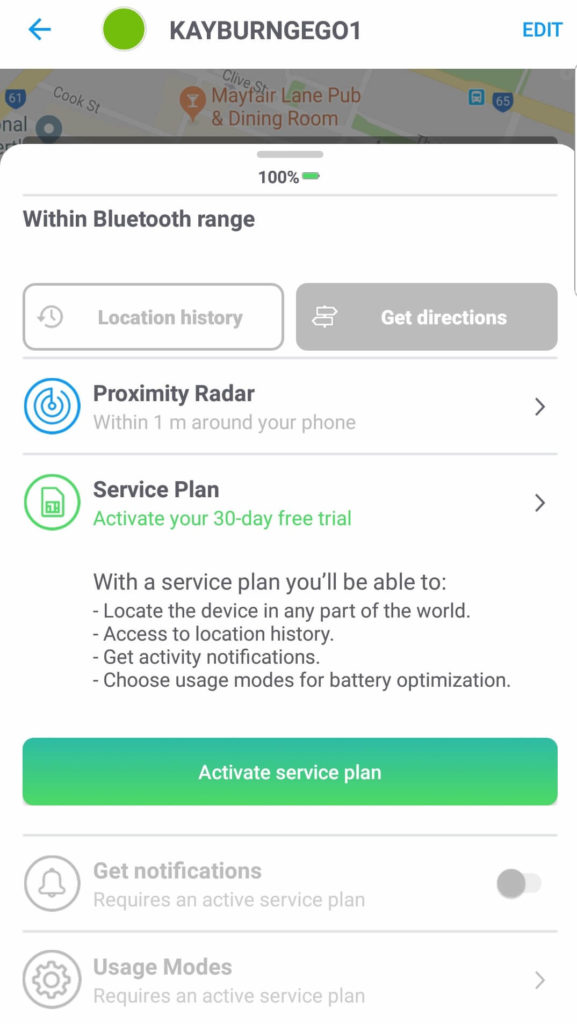 I love the fact that you can opt for a monthly plan. In most cases, one month is all you need for a trip including the return leg! For those that do not travel as often, this is perfect! Once you sign up for the monthly plan, you can immediately cancel the subscription. You can still use your Gego for the month you paid and it will not renew the following month.
When you activate your brand new Gego for the first time, it comes with a one month free trial. You will still need your credit card details to activate the traill but can then immediately cancel the subscription and you won't be charged. I used my free trial on my recent trip to Sri Lanka
Real world tests
My first test of the Gego was on a trip to Sri Lanka where I was filming blue and sperm whales. I packed two bags. One large suitcase with my camera and computer gear, the other duffel bag with my freediving gear and clothes. I slipped a fully charged Gego in each and checked that the current location showing was accurate.
Notifications
Upon reaching the airport in Malaysia, my phone received a notification that my bags had arrived at the airport. This notification was also received when my plane landed in Colombo.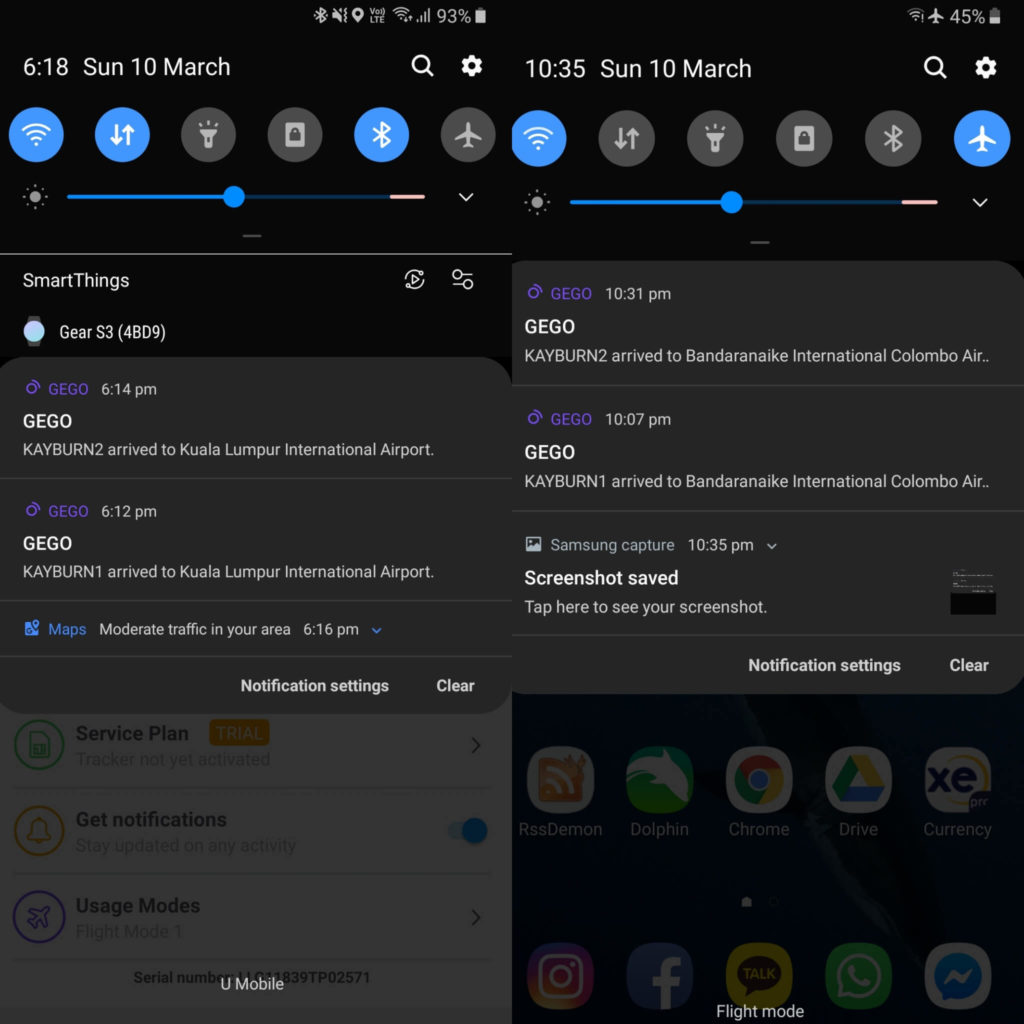 You must have data to receive notifications. Many major airports these days have free Wifi upon arrival. Your other option could also be to use data roaming on your mobile phone service provider (This can get costly if you don't have a roaming package of course).
Bluetooth proximity radar
The Gego is also equipped with a Bluetooth proximity radar that can sense your bag within a range of 100ft (Approximately 30m).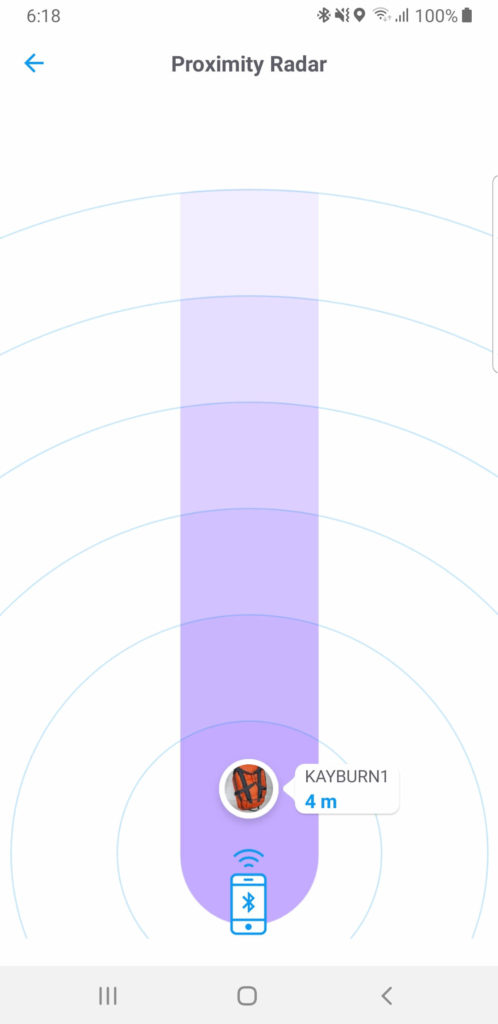 This works surprisingly well. Besides being able to be notified when your bag is on the conveyor belt, I could even locate my bag while I was in my plane seat before takeoff! Of course this depends on where you are seated and how big the plane is. Please don't walk around the plane to scan for your bags! LOL 
Map and Interface
The app is easy to use and very straightforward. It displays a map and shows you where your bags are. Below the map is the list of each Gego you own. If you are near your device, it will inform you of its distance from your phone (via Bluetooth). If you are not close enough for a bluetooth connection, the Gego will report its last scanned location.
Users can also get a location history of the Gego and even directions to the current location via Google maps.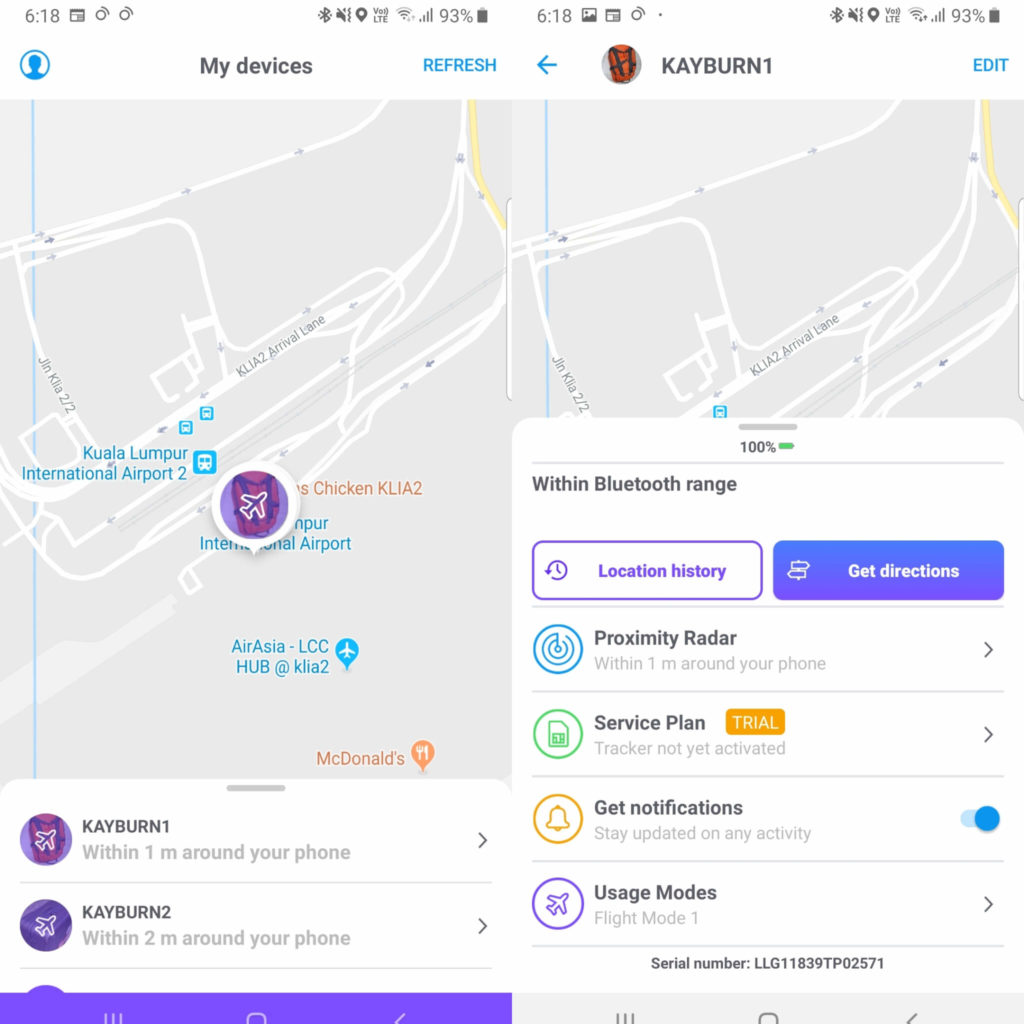 The exact battery status of the Gego can also be checked via the app. Just click on the Gego device within the list and the battery status will show on the top of the pop up menu.
Usage modes
The last thing to note about the Gego is the usage mode. This is set to help moderate the battery consumption of the device. It is important to set these to reflect how you intend to use the tracker. On standard mode, the battery may not last the duration of your long distance flight with constant location pinging.
There are two flight modes, one for flights shorter than 6 hours and another for flights longer than 6. The device refreshes less frequently with the longer flight mode. Then there is also a standard mode and a battery saver mode. The standard mode is for tracking items that move in and out of safe locations (which can be set via the app). This is also potentially useful for tracking young children in case they wander off "safe zones". Battery saver mode is for long term usage between charges. This is best for tracking packages.
Final notes
It did take slightly longer for one of my Gegos to accurately report its location. They do not seem to synchronize at the same time. I believe this is dependant on the time it takes for each device to be registered to the new mobile network. Some may take longer than others and this is then reflected in the location pinging schedule set in the usage mode. There is no need to panic however. The device will eventually report the correct location. In most cases though, I get the notifications the moment I step off the plane. I have made a few flights since receiving them.
I had an excellent experience with my Gego and will certainly be using it on all of my trips. The peace of mind I get from knowing all my gear arrived at destination and the ability to locate missing bags is invaluable to me.
If you would like to purchase the Gego, you can do so and help support my blog by using this link