When I first started shooting video underwater and began to teach myself video editing, I quickly realized that a fast and powerful laptop would make a huge difference when it came to doing serious work. Creating underwater content can be tedious and collecting footage is just a small part of the process. The real work involves data wrangling, review, cataloging, editing and rendering. It's a time consuming process working on a computer. A fast computer can ease a lot of frustration and help with the workflow momentum.
As a shooter that is usually on location or travelling, I don't usually have the time to sit at a desk back at the office or at home to deal with footage collected. For most assignments, I also have to do the data wrangling on my own. Larger productions may have crew members whose job is simply to handle footage shot each day. However, the reality for most assignments is that the videographer on set has to handle his own files and backups. When working with a prosumer or cinema camera shooting massive high bitrate files, this can take a lot of time. After the data is backed up, I sometimes need to review and render sample clips to send to the producers who may not be on location. A decent laptop and workflow can save a lot of time and frustration!
My requirements for a laptop are many and sometimes conflicting. I need something powerful, with a good video card, lots of RAM, fast and large SSD, and it all has to be in a light and portable package (The conflicting issue! LOL). The perfect laptop for me never existed for a long time and there was always a compromise to be made somewhere… until now. The new Gigabyte AERO 15 YA ticked all the right boxes (at a price).

Most computer enthusiasts will recognize the Gigabyte brand as a hardware and computer component manufacturer. Established in 1986 in Taiwan, Gigabyte made a name for itself manufacturing motherboards and graphics cards. Their expertise in hardware manufacturing led to the introduction of their own brand of gaming laptops and to the excellent range of Aero laptops of today.
Although the specifications tick all (or most) of the boxes for serious gamers, Gigabyte chose to market this range of laptops to creatives and content creators. I think this is an excellent decision by their marketing department. For far too long, creatives looking for a powerful Windows based laptop have had to deal with gaming laptops. Gaming laptops tend to have a much higher spec but are usually designed aesthetically with gamers in mind. Most have bright red accents, glowing lights, colorful keyboards and snazzy logos. Many are huge and heavy due to the cooling requirements for high powered hardware. The AERO 15 OLED bucks that trend with a beautiful and sleek form factor in an elegant all black aluminum chassis. The laptop falls into the "Thin and Light" category, with a thickness of 2cm and weighs only 2.1kg. Gone is the Gigabyte logo from past models. The Aero line of laptops have done so well that Gigabyte decided to use the Aero branding instead. The Aero logo in a futuristic font graces the cover and lights up when the computer is turned on. At the rear between the exhaust vents is a small metal plate as well bearing the Aero logo which is lit by two tiny LED lights for effect. Snazzy!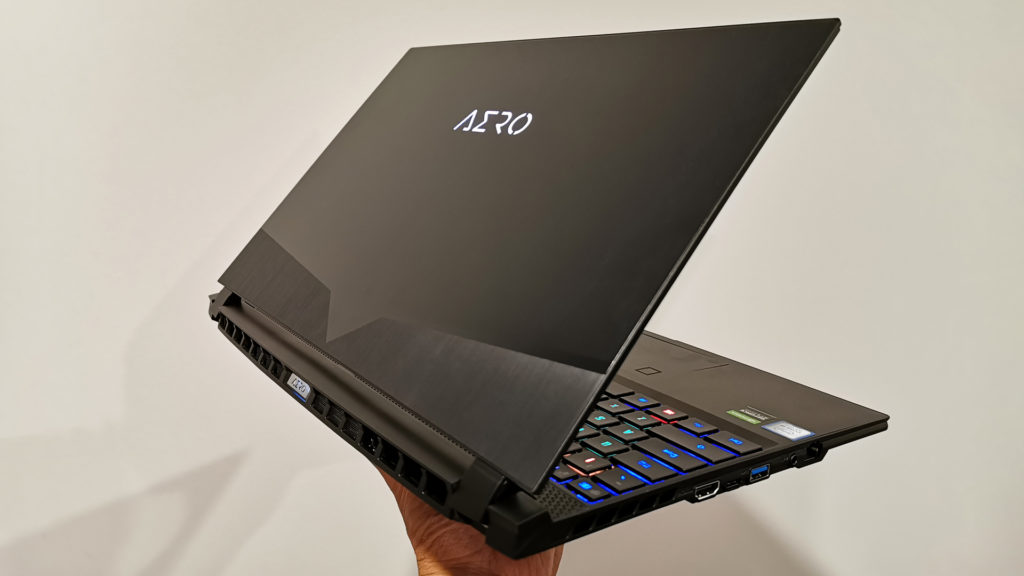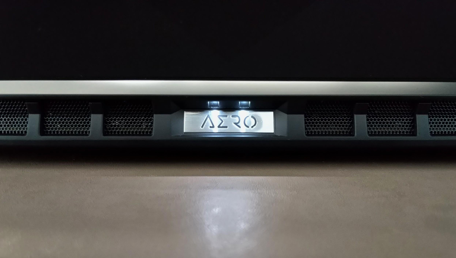 The only real giveaway that this laptop could be used by gamers is the colorful pulsating keyboard. Gigabyte calls this their RGB Fusion keyboard. The lighting options are fully customizable and offers a ridiculous 16.7 million colors to choose from. The keyboard has a full sized with a number pad and can be customized for macro functions. Gigabyte includes a cloth keyboard cover in the set which is a nice touch.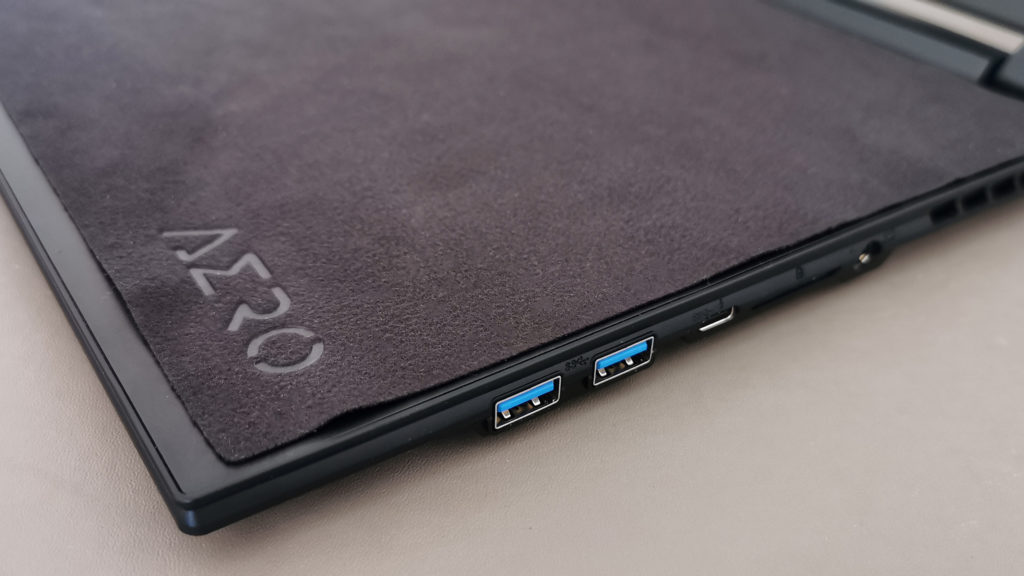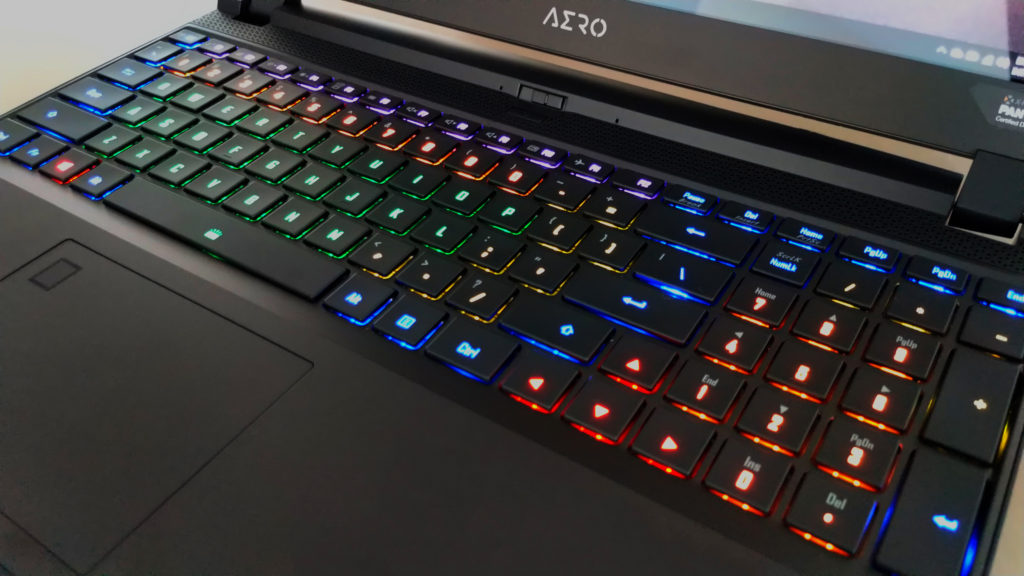 Heating is better handled in this latest version of the Aero 15 via a total of 11 intake and exhaust vents, 5 heat pipes and 2 x 71 blade fans. The air intake vents on the bottom of the laptop are massive! Other intake vents are on the top of the keyboard and through the keyboard itself. Exhaust vents are on the rear and sides of the laptop.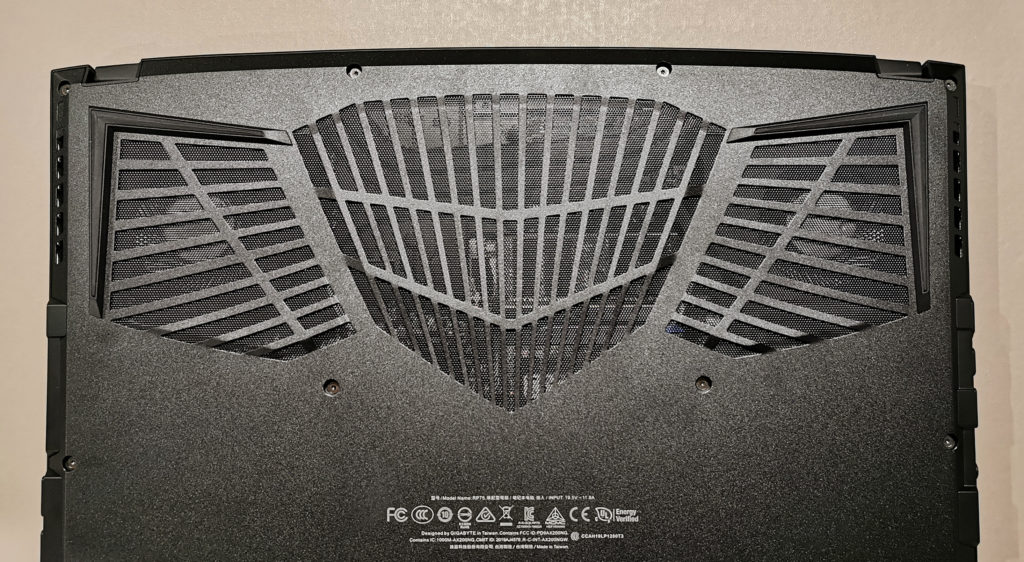 The fans are audible when the laptop is working on processor or graphics intensive tasks. For normal use such as browsing or word processing, I barely hear it at all. When rendering video however, they spin up to maximum speed and you can definitely tell it is working hard to dissipate heat.
The Aero 15 OLED range comes with a wide variety of connection options. These include a Thunderbolt 3 port, 3 x USB 3.1 (Gen 1) Type A ports, 1 x USB-C port (with Displayport 1.4), HDMI 2.0, a UHS-II SD card slot, RJ45 socket and a headphone jack. This is plenty for those like myself that need to connect a wide range of peripherals. Thunderbolt 3 with its incredible transfer speeds also allows for an even greater expansion of ports with docking stations! 
That said, I do have a few gripes here. For starters, they could have used USB 3.1 Gen 2 instead. Gen 2 has double the transfer speeds of Gen 1! The power cable socket could be located at the back instead of the middle of the right side. Gigabyte does offer an angled power cable so the wire doesn't stick out too far off the side. Finally, I would have preferred the Thunderbolt cable on the left of the laptop instead of right. But that's just the selfish right-handed person in me talking as the Thunderbolt cable to my docking station seems to get in the way of my mouse at times.    
This is truly the most highly specced thin and light laptop I have seen to date. The YA model of the Aero OLED comes with some seriously impressive hardware. Here's a list before I go into each in more detail.
4K AMOLED Pantone calibrated display with 3mm bezels
Core i9 9980HK (9th Gen Octa Core) Processor
64GB RAM! (2 x 32Gb)
NVIDIA RTX2080 Max Q Graphics Card 
1TB NVMe SSD (plus another free Slot)
94 Wh battery
Windows 10 Pro with Microsoft Azure AI      
This 15.6 inch screen is gorgeous! AMOLED screens are not as common on laptops due to the higher cost. These are based on the same tech on what you would find on many current phones. OLED panels are made from organic materials that emit light when electricity is applied through them. They do not require a backlight which LCDs need. Contrast on OLED screens is also much higher compared to LCD panels. Black color on an OLED screen are true blacks as the black pixels are essentially turned off. The contrast ratio is an incredible 100,000:1.

The screen is also matches the VESA Display HDR400 standard and supports 100% DCI-P3 color gamut. It is also individually color calibrated at the factory and Xrite Pantone certified. 
All of this translates into an incredible looking screen that seriously pops. Colors are accurate out of the box and the screen is rated as one of the brightest in the market. Gigabyte has also designed a bumper around the bezel to protect the screen from contact with the keyboard and base.
Note to gamers, the refresh rate on the 4K OLED screen is 60Hz. Serious gamers would probably prefer the model with a non OLED 1080p HD 144Hz panel for games instead. For content creators however, the 4K OLED option is a no brainer! 
The YA version of Aero 15 utilizes the i9 9880HK CPU. A 9th generation 8 core chip utilizing Intel's Thermal Velocity Boost technology. This is the highest specced CPU available for mobile devices from the 9th generation. In October 2019, Dell and Microsoft (Surface) started introducing new 10th generation CPUs. However the introduced latest gen chipsets are still not available for the higher end laptop models. 
The i9 9980HK is still the fastest mobile processor currently available. The H designation is reserved for the highest performing laptops while the K means the CPU is unlocked, allowing users to tinker with settings to boost performance.
Videographers require a combination of good CPUs and GPUs (Graphics Processing Unit) on their computers. Rendering clips is generally a more CPU intensive task while editing on the timeline smoothly requires better GPU performance. A good CPU will speed up rendering times significantly although it is usually a combination of both processors working together.
64GB of RAM is unheard of for most laptops off the shelves! The YA model comes with 64GB installed. There are 2 RAM slots with 32GB of memory in each. The main use of RAM when video editing is for caching preview files. This covers everything you input into your timeline to obtain a rendered preview. This preview resides in the RAM, to be played back in real time when required. 64GB is recommended for 8K work while 16GB – 32GB is sufficient for 4K.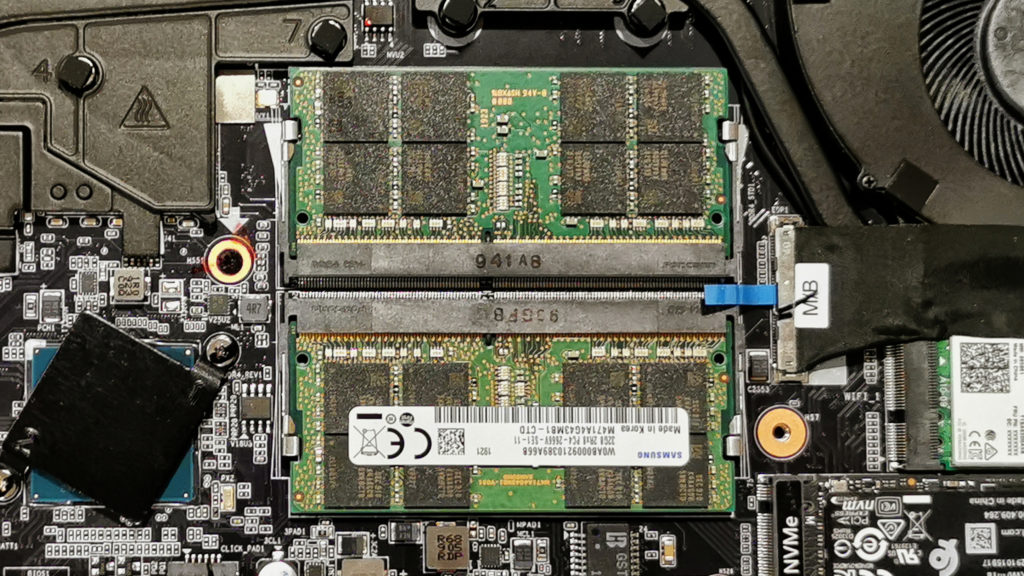 The Aero 15 OLED YA comes with a 1TB NVMe solid state drive (SSD) installed. However, the laptop has a second empty NVMe slot to easily increase the drive space! Just purchase the SSD and slot it in! Gigabyte even includes a thermal pad to stick on any secondary SSD you purchase and install. NVMe drives offer extremely fast read and write speeds and tend to get very hot during use. The thermal pad/sticker helps with cooling by dissipating heat.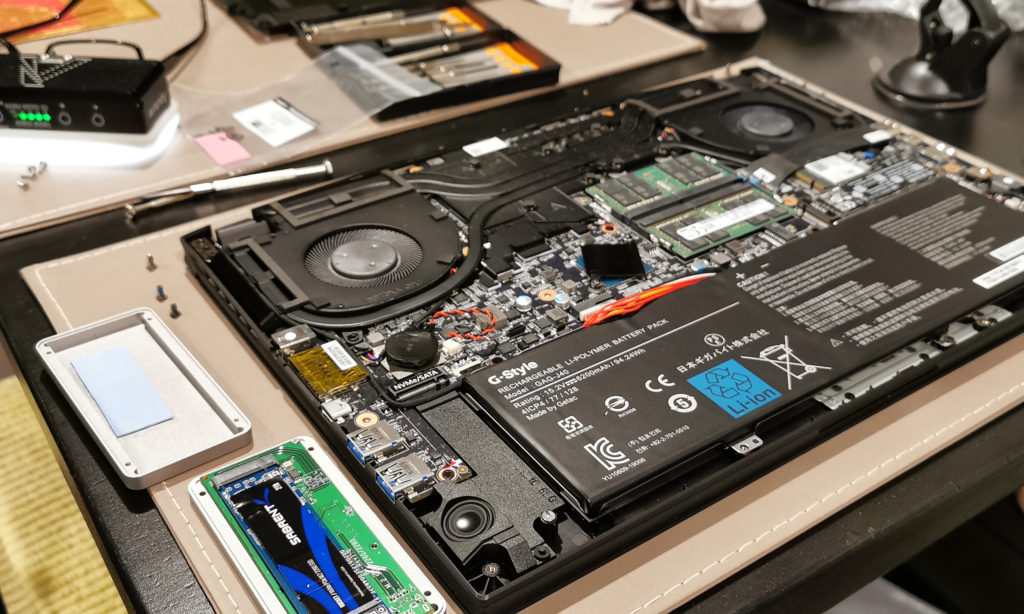 I installed another 2TB SSD into my laptop. A usual busy day for me underwater can yield anywhere from 600GB to 1TB of raw footage. Data transfer times to offload these files can be significant. This is where fast drives, fast cards, fast card readers and fast ports such as Thunderbolt 3 are important. Any slower component will create a bottleneck in speeds. Having a total of 3TB installed allows me to offload the files of my 1TB RED MAG card faster and also gives me plenty of space to work on projects while on location. It's worth noting however that maximum read and write speeds of RED Mags don't even come close to what Thunderbolt 3 or NVMe drives are capable of. 
Graphics Card (NVIDIA RTX 2080 Max-Q)
Launched at the end of January in 2019, the NVIDIA RTX20 series of graphics cards for laptops was the real game changer I had been waiting for and the main reason why I decided to purchase a new laptop. With this, the Aero 15 OLED YA is capable of playing back 8K RED footage in real time! This was unheard of on any laptop until mid April this year and is made possible by the new Nvidia CUDA-accelerated REDCODE SDK. Working at half resolution is enough with 8K footage on a 4K laptop. You can easily edit, color grade and playback (within REDCINE-X Pro) at half resolution without any buffering!
In the past, I had to view 8K clips at much lower resolutions in order to review RED footage. When editing, it was necessary to work with lower resolution proxies (copies) in order to edit on a laptop. This was a time consuming process although software these days has improved the workflow for this. Nevertheless, being able to playback original RED raw files at 4-8K was unheard of! 
When working with Adobe Premiere Pro, I found using ¼ resolution playback more reliable although unedited RED footage seemed to play back with almost no buffering at ½ resolution. It's worth noting that RED only released their SDK for NVIDIA CUDA R3D decode in April of 2019. It has yet to be implemented in NLEs like Adobe Premiere Pro or DaVinci. This will be a matter of time and will result in improved GPU acceleration for RED R3D RAW files within these editing programs. 
It should also be noted that Apple does not use NVIDIA hardware and isn't likely to do so in the near future. You can forget about playing back RED R3D files at max (or even half) resolution with even the latest Macbook Pro. Sorry Apple fans.
Conclusions and daily use
The Aero 15 on paper has everything I want in a laptop with the technology available today. A portable thin and light form factor, powerful processor and graphics card, large amount of memory and lots of fast drive space with slots for expansion. It has lots of connection options. I haven't even mentioned WiFi 6 (802.11AX) or Bluetooth 5.0 as these options are expected on almost all devices these days. Photographers will love the super fast USD-II SD card reader as well! The fingerprint reader built into the top left of the trackpad is also a wonderful addition and unlocks my laptop quickly and easily. 
Battery life is respectable for a laptop with this much power and in such a small size. The Aero OLED uses a 94Wh Lithium Polymer battery which is close to the 100Wh limit imposed by airlines for travel with batteries. Gigabyte claims 8.5hrs of use with Wifi and bluetooth off while watching a HD video at 20% screen brightness. In reality, I found myself getting about 4 hours or so with normal use surfing the internet, watching some 4K clips, downloading updates, reviewing some footage and doing word processing with the screen much brighter. 
This laptop is also the first to introduce artificial intelligence using Microsoft Azure. It uses AI to learn a user's preference and what different programs require from computer hardware such as the CPU, GPU, cooling requirements, etc. Azure then learns and optimizes the settings to deliver the best performance and/or battery life over time. The results of Azure are hard to see or quantify as everything happens in the background. However besides Gigabyte's claims, some independent tests and reviews online have claimed a modest improvement of perhaps 8-12%.  
If I had to nitpick, there were a few things that could have been implemented that would have made this laptop even better. The inclusion of USB 3.1 Gen 2 (instead of Gen 1) and having the Thunderbolt socket on the left are some examples. Some users may complain about the poor placement of the webcam below the screen which points upwards and into your nostrils. As I don't use webcams, this didn't bother me and I actually found the manual sliding camera cover to be extremely useful for protecting my privacy!
Although the build feels very solid and premium, the dual hinge system seems to be a little more wobbly than the other laptops with a single long hinge connecting the screen to the body. This didn't bother me too much. The screen stayed in place when closed at a 45 degree angle and was also easily lifted open from a shut position with one finger. What did bother me however was the fact that the keyboard's secondary key function is not backlit and requires a closer look in some cases to find the right key. You can see this in the animated GIF above.
In the end, none of these factors were dealbreakers. The AMOLED screen and the ability to playback 8K RED R3D files in full resolution was enough to make me throw my credit card at the vendor. Speaking of which, this laptop does come at a hefty price. One YouTube review I watched mentioned that it cost approximately 3.5 kidneys! LOL! As a comparison, the highest spec Macbook Pro 15 costs about ⅓ less than the Aero 15 OLED YA! You could get a cheaper Aero model as well with lower specifications of course. But why do that when the YA offers this much performance? (Just kidding) 😛