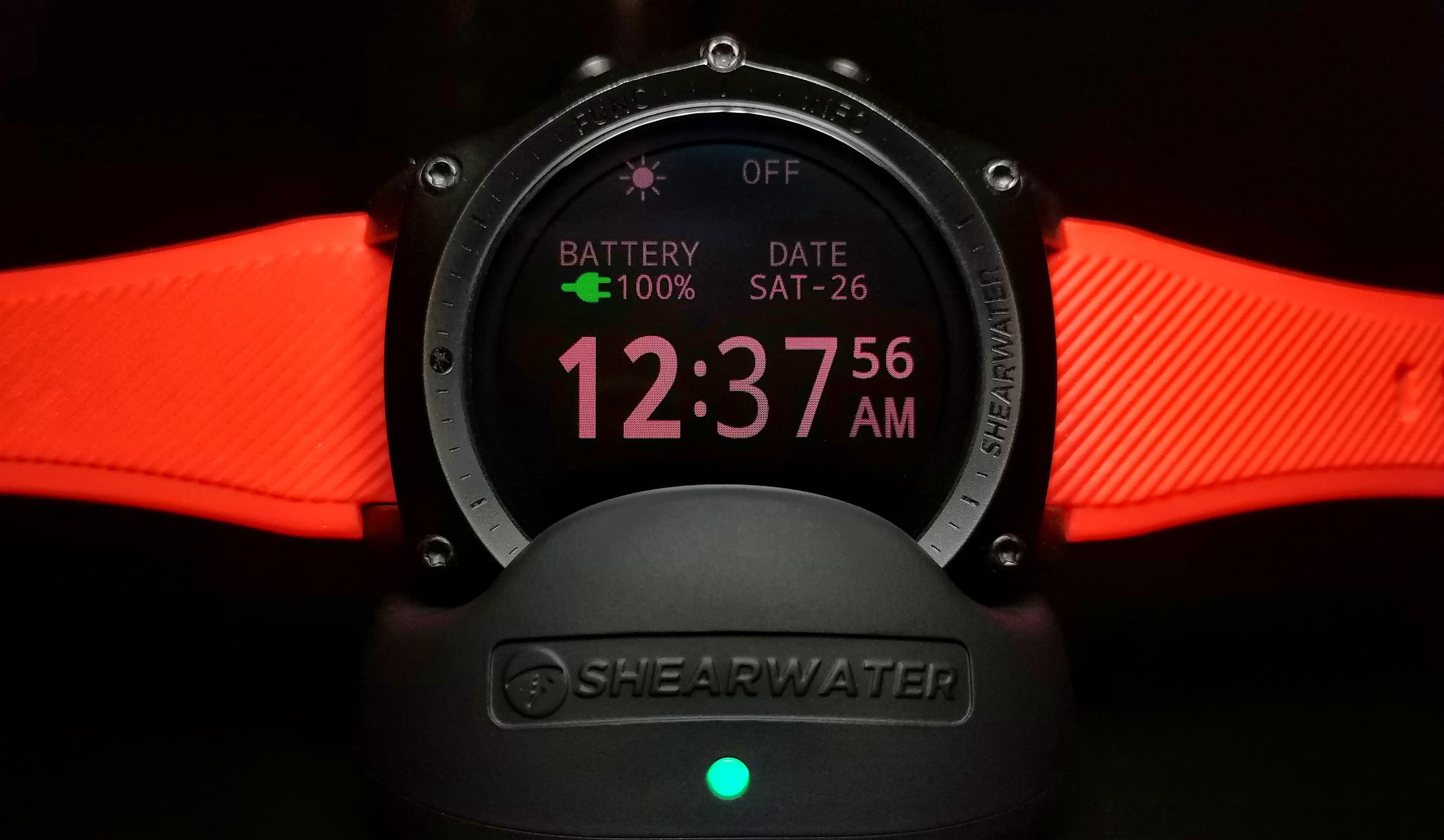 Although I work in the ocean as an underwater cinematographer, I have to disclose that I have only ever used a handful of dive computers. My first dive computer was the first generation Suunto D9 followed by a Suunto D6i. On both occasions, the computers developed faults after years of reliable use (as is to be expected), and the repair cost was prohibitive.
All that time, I have watched dive computers evolve and improve. I knew there were features I wanted out of a dive computer but never got around to purchasing or even trying something new. When it comes to diving, I prefer to use what I know well and am sometimes resistant to change. Underwater cinematography or photography can be an extremely task loading activity. I find that knowing your equipment well enough that it becomes an extension of your body is important.
However, after my last dive computer started resetting on it's own and losing decompression data of my accumulated dives mid trip, I decided the time had come to perhaps step up and try something new. Enter the Shearwater Teric!
I have always preferred a watch style dive computer that can be worn as a timepiece. The downside to this of course is the much smaller display. There are lots of larger wrist mounted options these days and even heads up displays that projects the information straight to the eye. However, I like the idea of having a dive computer that I can use as a functional watch while on trips.
This article is meant to be an introduction to the Teric and covers only recreational diving use of the Shearwater Teric.
Shearwater Research

Shearwater Research was founded in 2004 by Bruce Partridge. The company manufactures dive computers that utilize the Bühlmann decompression algorithm. In 2009, they introduced their first model named the Predator. It was the first color OLED dive computer with a user replaceable battery. This was followed by the Petrel in 2011 (AA powered dive computer), the NERD (Heads up display computer) in 2013 and then by the Perdix in 2015. 2017 saw the introduction of the updated NERD, the NERD 2. Finally, the Teric was introduced in May of 2018.
The Teric is Shearwater's first dive computer in a watch form factor.
Rugged Industrial Design
The Shearwater Teric is a very handsome watch. Black anodized stainless steel, black rubber straps, large and hefty. The screen is a generous 1.39" and utilizes a full color AMOLED screen that I found wonderful to use after years of diving with a monochrome LCD screen!
It comes with a black rubber strap, a strap extension (for use with bulky thermal protection such as drysuits), cable, wireless charger, additional strap bars and screwdrivers for changing the straps. All of this is packed in a nice travel case.
Features
Rechargeable battery
The Teric utilizes a factory replaceable rechargeable battery. This gives about 50 hours of use at high brightness (30 when the compass is turned on due to the refresh rate required for smooth motion viewing). The battery is expected to last approximately 5 years before needing a replacement. Charging is done wirelessly via a supplied charging base although any Qi enabled wireless charger will also work
Diving Modes
All the usual diving modes are available from a high end computer. These include OC (Open Circuit) Recreational, OC Technical, CC (Closed Circuit) Rebreather, Gauge and Freediving modes.
Air Integration
The Shearwater Teric comes with air integration. The transmitter is not included with the set and can be purchased separately. In addition, any transmitter marked with "FCC ID MH8A" on the body may be used regardless of the brand. This means transmitters such as the current Oceanic branded versions may be used with the Teric if you have them already. Up to two transmitters are supported.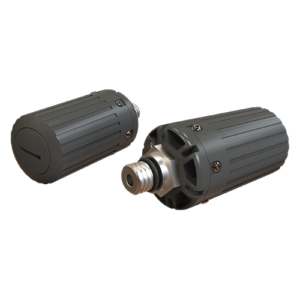 Screen Customization
This is one of the best things I like about the Teric. It is extremely customizable. On land, you have a few different options for watch faces, from digital display to analog hands. You can change the colors of the fonts as well with a choice of 15 color options!.
There are two different kinds of display options when in dive mode, Big and Standard. Big shows larger fonts but slightly less information at a glance. Standard has more customizable slots for information display but uses smaller fonts. You can also change the color of the fonts.
Here is a list of information you can choose to display on the layout. As you can see, it is very extensive.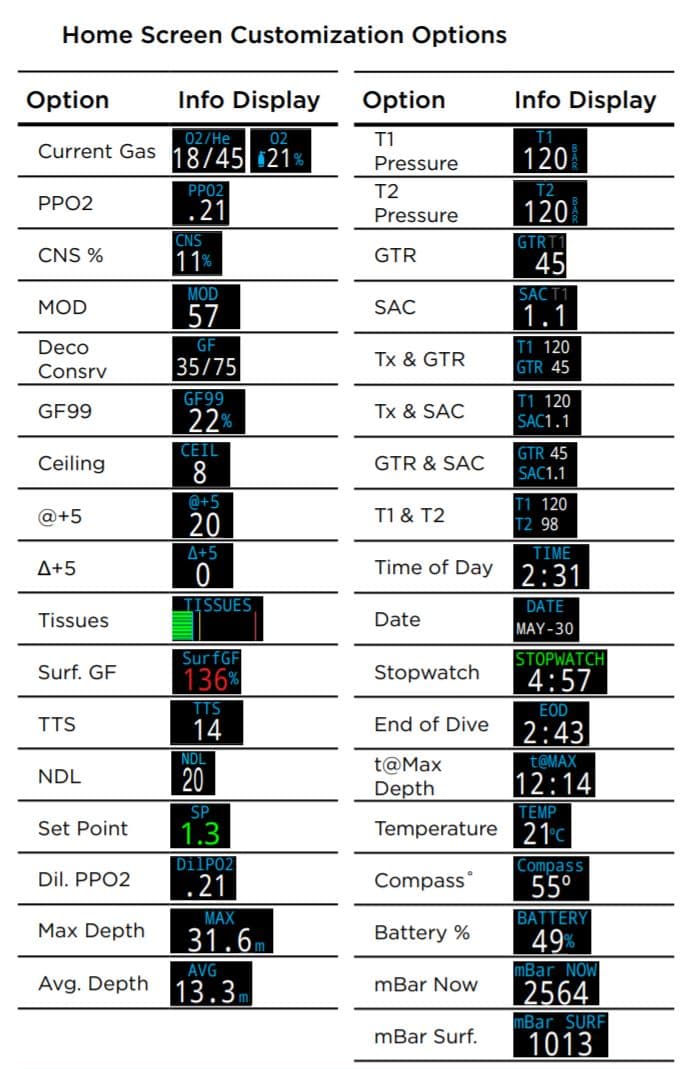 Teric screen customization
Mobile App
Users can download the Shearwater app 'Shearwater Cloud' on both iOS and Android platforms. This allows divers to maintain a log of dives which has a cloud based backup.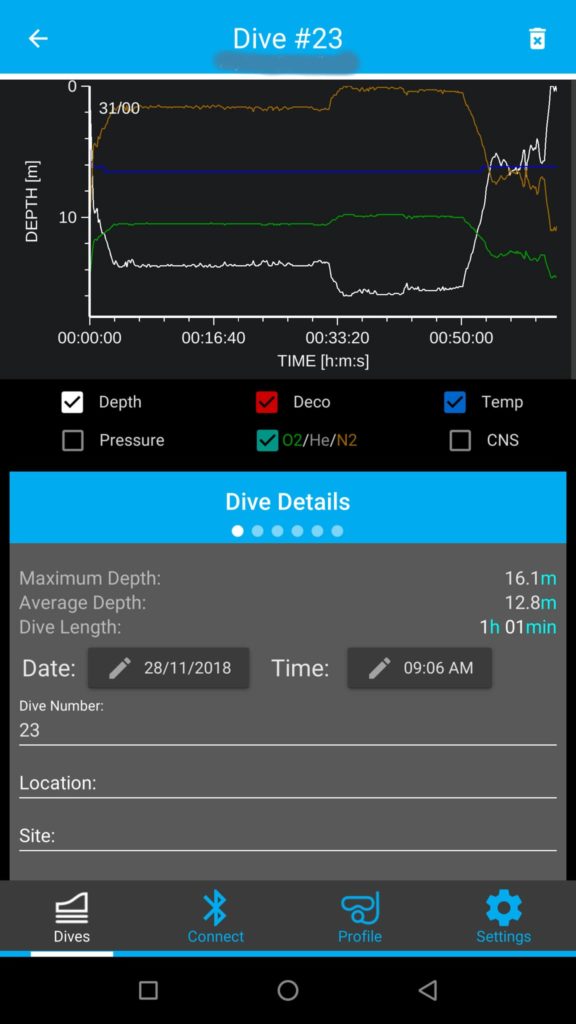 Real World Tests
I found battery life sufficient for what I do. It's a trade off I feel to have a rechargeable battery versus one that needs to be replaced, or worse still, service center replaced/tested. The 50hr use is based on Teric being used as a watch and equates to about 3 days of use (16 hrs per day). When diving, I could get 3 dives a day easily and if I forgot to charge the dive computer, could probably safely do another dive or two. These were dives with the air integrated transmitter as well.
There are things you can do to extend use. When not worn, the Teric switches off after a while and requires a button press to turn back on. This conserves battery as well. If you don't need the compass, don't turn on the overlay as this requires the screen to refresh a lot more and draws considerably more power.
Screen size is large and fonts are very easy to read. Visibility is great as well even in bright light while diving. On land, on the brightest of days, screen brightness settings might have to be set to the highest. For night dives however, having an AMOLED screen is a godsend! All this while before using the Teric, I have been using monochrome LCD dive computers that need a button press to activate the light. Words can't express how annoying that was. Being able to see the information on my dive computer clearly and without having to press a button is such a relief!
While on the topic of seeing clearly, the other feature I like about the Teric is how information that needs attention is color coded. Yellow is used for warnings that are not immediately dangerous but should be addressed. Flashing red is used for critical warnings that could be life threatening if not immediately addressed. In addition to this, a warning sign with a description is displayed across the screen which requires a button press to remove. This I do not like.
While I understand that the need to manually press a button acknowledges the warning, it should be known that the warning obscures all the critical information of the warning itself! In order to view the information. I need to press a button to clear the warning. This means I have to stop everything I am doing. This could be anything from filming to struggling with something in event of an emergency.
The watch has vibration, sound and color coded display alerts as it is. To throw a warning that covers what you are being warned about is akin to having someone covering your speedometer and telling you that you are speeding, and having to pull that hand away while driving! I already know I'm in deco at a glance, let me SEE the details please! Please have this changed in a firmware update Shearwater! One look at the color coded screen and we already know what the warning is for. We don't need another warning that covers what the problem is. A warning which requires a button press to deal with… I don't want to touch my dive computer at all!
The dive computer treats you like an adult. It does not lock the user out if you miss safety or deco stops. Shearwater's policy is to provide clear warnings that the decompression scheduled was violated, to allow you to make decisions based on your training. This may include contacting your dive insurance provider, contacting the nearest recompression chamber, or performing first aid based on your training.
There is also no "no-fly" indicator or timer. Instead, there is a surface interval timer. Divers should evaluate their situation and use an appropriate preflight surface interval. Shearwater list their reason for doing so HERE  and it makes good sense
Finally, it should be noted that syncing to the app via bluetooth is painfully slow and unreliable. Dive log uploads and firmware updates via bluetooth were very slow. However when it works, it's fine.
Conclusion
The issue with the warnings obscuring the information was probably the only annoyance I experienced using the Teric and I believe could be changed in an update if Shearwater wanted to. On the other hand, there is a lot to like. Large customizable AMOLED display, beautiful watch form factor, a rechargeable battery means never having a dive computer rendered useless because of a dead battery and no spares on a trip.
It looks great as a daily watch. The straps are a standard 22mm and colored straps can be bought from Shearwater. However, any 22mm strap will fit. After doing some online research, I found that Samsung Gear S3 (smartwatch) silicone straps fit perfectly as well! The red strap you see on the cover photo at the start of this article is from the Gear S3.
The Teric has been in such high demand that for a very long time, supplies were scarce and manufacturing could not keep up with demand. Availability seems to be better now as production has stabilized.
You can order the Teric from the following link
Aftermarket replacement straps can be found on Amazon