DJI Osmo Pocket handheld camera gimbal
If I had to name one pet peeve I have when it comes to watching poorly shot video on social media, it's probably shaky footage. All too often, many who are new to shooting mobile or action camera footage don't realize that shaky footage can be difficult to watch and nauseating at times. Granted this is a less common occurrence these days as video is becoming more popular on various social media platforms.
Having said that, there are a lot more tools for stabilizing video these days. These range from software solutions (Both built into the camera or in post production) to sensor stabilization and of course, using a gimbal.
The gimbal is the holy grail for videographers seeking to take stable footage while moving and is a well proven tool used by professional cinematographers. This device is basically a motorized pivoted support that allows the rotation of a camera about a single axis. A 3 axis motorized gimbal is one that stabilizes a camera across all 3 axis using motors and sensors to counteract any erratic movement.
DJI & Gimbals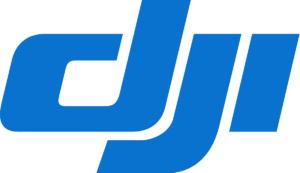 I have owned a various DJI products in the past and even used some of their drones for professional broadcast work. DJI are well known players in the drone industry and were early to introduce gimbal stabilized camera drones. This expertise has led them to develop camera gimbals for land use, ranging from extremely popular Osmo range of consumer amateur devices up till the Ronin range of professional gimbals used for broadcast and cinema production work.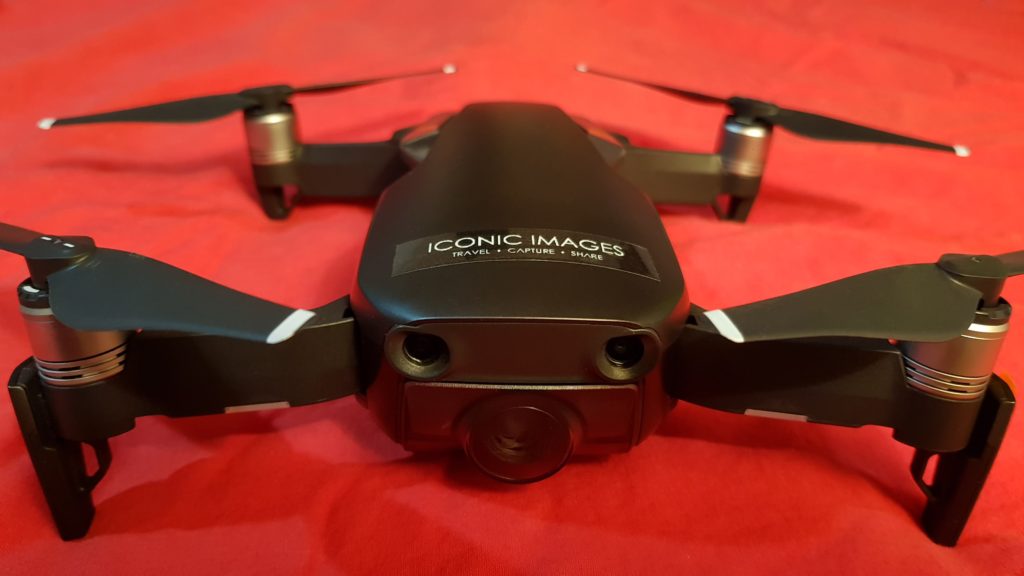 Over the years, I have seen these cameras and gimbals shrink in size on drone systems while footage quality gradually improved. It wasn't till I saw the Osmo Pocket that I realized for far the technology had come in terms of miniaturization. 
Action camera with a gimbal
The Osmo Pocket truly is tiny considering the fact that it has a mechanical electronically controlled gimbal built in . It weighs an astonishing 116gr and it's form factor makes it easy to stash in a pocket or handbag (When it's in the case). Although many claim that it falls within the action camera category due to its small size, I believe it should come under a category of its own.
Action cameras by definition are tiny cameras designed for recording action while being immersed in it. They certainly have their place in content creation especially for first person POV shots. Cameras that are small enough (and tough enough) to be strapped onto a body, equipment or vehicles to give a unique point of view. Footage is expected to be jerky (due to action) or stable at the part which the camera is attached to (such as helmets or vehicles). The Osmo Pocket is nothing like this.
Being a gimbal equipped camera, the Osmo Pocket is instead a camera designed to capture a cinematic view of the world around us as opposed to an action camera designed for filming things as seen from various perspectives. Both have their place and I personally believe neither is a substitute for the other. Action cameras aren't meant to be hand held. The Osmo Pocket is. Because action cameras are meant to be mounted to record video from a particular perspective, field of view is usually extremely wide and in most cases made with a fisheye lens. The Osmo on the other hand employs a narrower field of view at 80° or a format equivalent to 26mm. Whether you prefer one look over the other is a matter of personal preference. However, I do believe that either have their place in a camera bag or production.
For me, the Osmo Pocket represents a useful tool for quick blogs, capturing family events or travels, and a quick and handy STABILIZED topside camera when I am on boats or whenever carrying anything larger just isn't convenient. In fact, it's so small that I find myself carrying it almost everywhere, slipping it into my pocket wherever I go out. As they say, the best camera is the one you have with you. Until now, this used to be my mobile phone!
What's in the box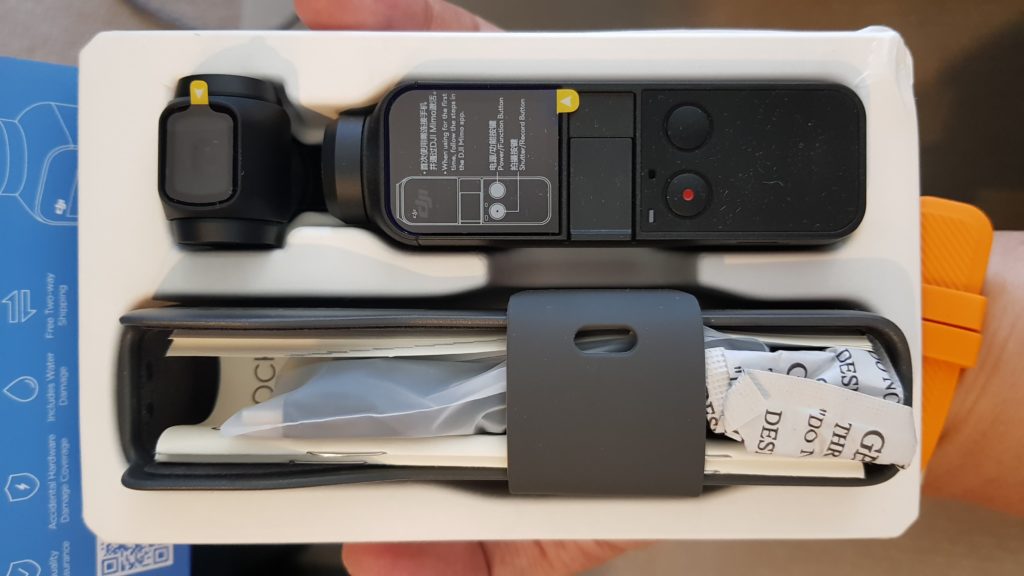 The Osmo Pocket comes with a nice case which allows quick access and also the possibility to charge the camera while it sits within. A lanyard and a USB-C charging cable is also included.
There are also two connectors for both Android phones that use USB-C and Iphones which use a Lightning connector. It seems that DJI has fully embraced USB-C and have not offered options for those with phones using a mini usb connection. There are adapters available which have worked for some users but I have read reports that this isn't universal and some do not work. Your mileage may vary.  
Phone connectors. The connector can also sit on the Osmo Pocket reversed with the plug side inwards for storage.
Gimbal Control
Different settings for the gimbal are available. These are FPV mode, Follow mode and Tilt-Lock mode.
FPV (First Person View) mode essentially follows the direction you point at. This is best for action type shots or when mounted on a vehicle. It attempts to follow the direction and angle you are pointing at. If you are tilting the camera, it will stay tilted as well (while attempting to stabilize the footage)
Follow Mode follows your movements and the direction it is pointed at. However unlike FPV mode, the camera stays level and stabilized while shifting slowly to point at the general direction you are aimed at.
Tilt -Lock mode locks the gimbal tilt and the direction the gimbal is pointing at. 
Shooting modes
There are various modes available on the Osmo Pocket. These are Photo, Video, Slo-mo, Timelapse (and Motionlapse) and Pano.
Photo needs no extra explanation. Video on the other hand is limited to either 1080p or 4k (16×9) options on the Osmo Pocket. You can also set the framerate at either 25, 30, 50 or 60fps. Interestingly, 24 fps is not available as an option. This could change in a future update as there seem to be many requests for it.
Slo-Mo is available at 4x slowmo and only at 1080p There are no other frame rate options. Users should also be warned that Slo-Mo mode crops the image and reduces the field of view (FOV) substantially.
4x Slow Motion generated by the Osmo Pocket (Straight from camera, auto modes, no filters)
Timelapse and specifically Motionlapse are by far my favourite settings on the Osmo Pocket. Although there are mobile phone apps that can do timelapse sequences these days, they are stagnant sequences. A motionlapse however adds movement to the timelapse by moving the camera in increments before taking each shot. This creates a more cinematic feel to the timelapse allowing for nice reveal shots or tracking of a slow moving subject. To do this on any other camera would require a gimbal (possibly a motorized slider) and software to make these calibrated moves! It can now be done easily with this tiny all in one device! Setup is easy. Use the touch screen to choose the delay between shots and the recording time, then put the camera in place and manually turn the lens point the camera to the starting point and tap the screen. Then manually turn it to the end point and tap again. Hit record and the Osmo Pocket does the rest!
The Pocket creates a 1080p version of the timelapse which can be downloaded to the phone. For those that want 4k clips, individual (jpeg) photos are stored on the SD card at full resolution which you can copy to a computer and stitch via other software.   
Motion lapse generated by the Osmo Pocket (Straight from camera, auto modes, no filters)
Finally there is Pano mode. This mode is similar to function available on recent DJI drones. When selected, the camera turns automatically and takes a series of photos at various angles and then stitches them together. The resulting stitched image can be then viewed within the DJI Mimo app. Within the Pano mode, users can choose from the 180° panoramic option (which merges 3 shots side by side) or the 3×3 option (which takes 9 shots in 3×3 to create a larger image)   

Image Quality
Although being a very tiny camera with a sensor size of 1 / 2.3", Image quality is pretty good and comparable with cameras such as the GoPro Hero 7. Video bitrate is 100Mbps. Clips were nicely saturated and sharp. Low light performance is decent as well.
DJI Mimo app
When the Osmo Pocket is attached to a mobile phone, the phone can be used as a screen to monitor what you are shooting and control the Pocket. It also allows for "Pro" modes. Pro modes basically offers more manual controls over the standard auto settings. Including setting ISO and shutter speeds. The DJI Mimo app (Android and iOS) is used to interface with the Osmo Pocket.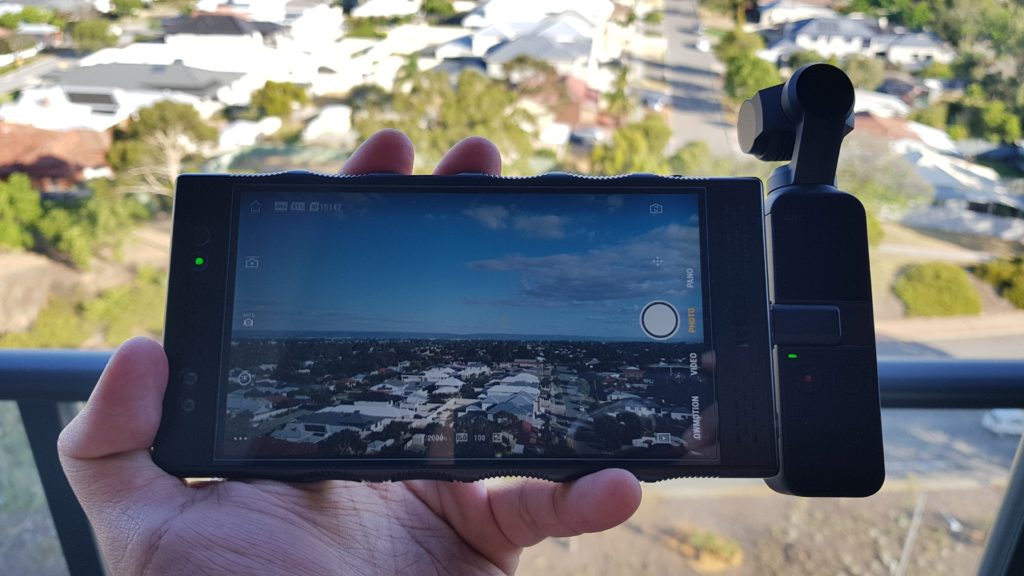 Within the Mimo app, users can also download and review photos and footage. One caveat however, iPhone users will not save 4k 60fps footage to the phone. 4k 30fps download is also not supported for phones older than the Iphone 8. Android users however do not have the same download issues. However, the Mimo app can't edit 4k footage and works on a 1080p timeline. To work around this issue, I installed a video compressing app to resize the clips on my phone which is then readable by the Mimo app for editing.
Likes & Dislikes and Quirks
I really do like the Osmo Pocket and it's capabilities. It's tiny, fast to boot up, offers 4k 60fps and many other shooting modes such as Motionlapse. It's just so convenient! However, it isn't without issues and there are a few things that it could improve on.
Focusing issues. Before the last update, many users complained about focus "pumping" issues with their Osmo Pocket. What this meant was that the camera would occasionally try to focus on the background and then back to the subject again. This resulted in annoying "pumping" in the middle of footage recorded. A recent firmware update reduced this by a significant amount but there are those who still seem to have issues. DJI is actively following up on those cases and should be introducing another update soon.
I have noticed this in a few of my clips but it hasn't been as bad as what some reviewers are claiming. Ultimately, this will depend on the conditions you are shooting at. The Osmo Pocket relies on contrast detection while shooting and may hunt in low contrast situations or poor lighting.
Another thing I would like to see changed is the fact that Pro mode is only available when a phone is connected to the camera.Either via the USB-C, lightning adapter or with the wireless adapter accessory. You can only change camera settings such as shutter speed and ISO when Pro mode is enabled. This was probably my greatest annoyance as I like greater control over manual functions. Having the Osmo pocket plugged onto a phone all the time defeats the purpose of having it so small.
Thankfully, after settings are done, the Pocket can be removed from the phone and the pro settings are still maintained. Changing functions on the Pocket however (from video to photo for example) will cause it to exit pro mode. I have since bought a wireless adapter to connect to the camera and find this the perfect solution for now. Hopefully a future update will allow manual settings to be done via the camera itself.
Finally, Cinelike-D  is still not available on the Osmo Pocket at the time of writing this article. Using Cinelike-D color profiles is similar to using log and gives a "flatter" color and contrast profile. The resulting footage is much better for grading on a computer as it retains a lot more information. I believe this should be added soon in a firmware update and will make a lot of advanced users happy.
Conclusions
Although not perfect, I am very happy with my Osmo Pocket purchase. Although I shoot a professional cinema camera for work, I am a huge fan of miniaturization of technology and gadgets. The convenience of having a gimbal equipped camera this small is second to none and truly something to marvel at! I have since purchase a load of accessories (both DJI and aftermarket parts) for my Osmo Pocket and will be writing about these in another review coming soon. Stay tuned!
The Osmo Pocket can be purchased on Amazon.