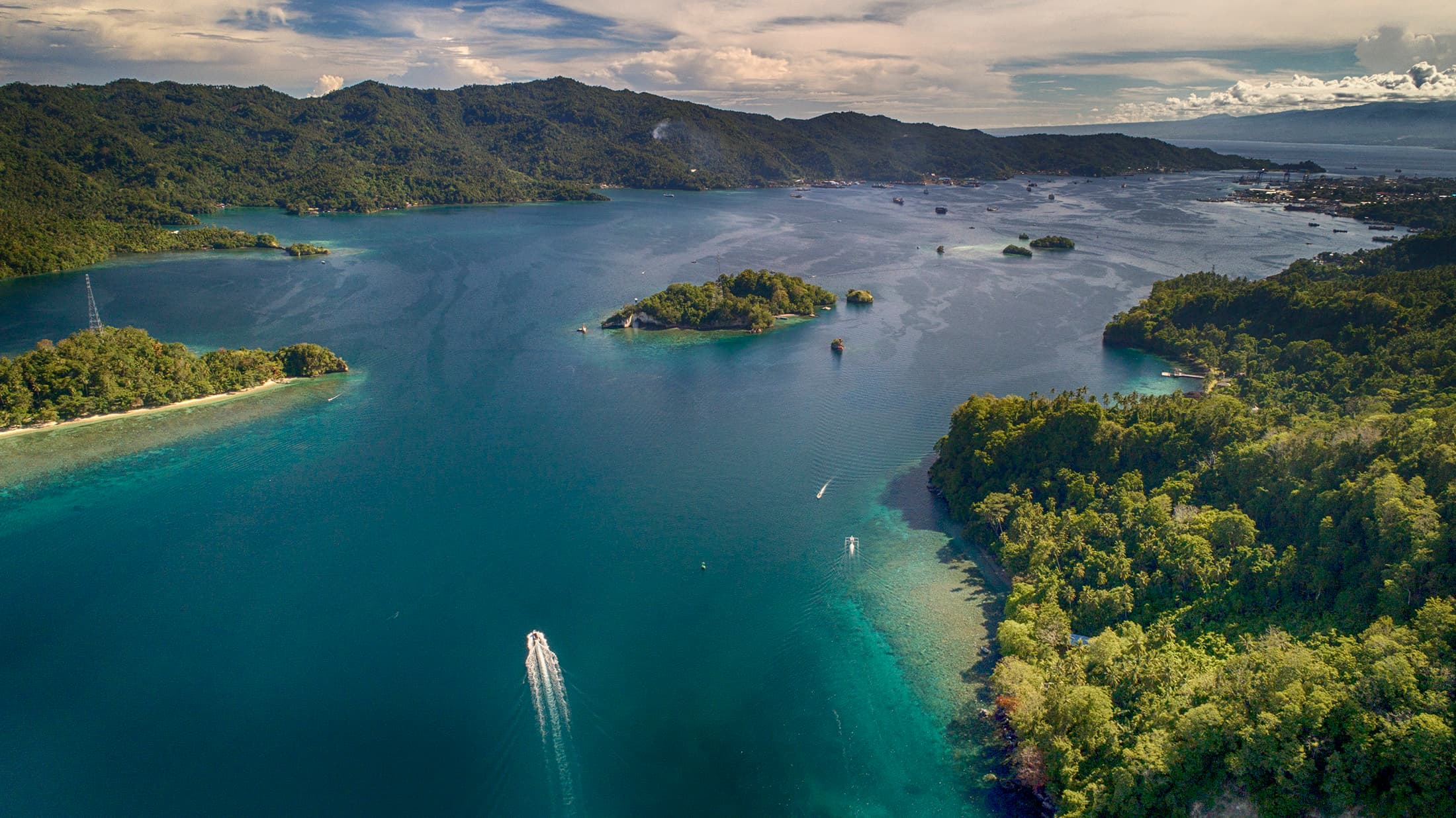 Spectacular aerial view of the Lembeh Strait (Photos courtesy of my buddy Kelvin Pang)
The Lembeh Strait
(A review of YOS Dive Lembeh, my home away from home)
Those that have been following my work over the years will know that the Lembeh Strait in Indonesia is probably my favourite dive destination. I usually choose where to dive based on what I hope to see and need to film. Tiger sharks in the Bahamas, mantas and colorful reefs in Raja Ampat and Komodo, and for macro, it has always been Lembeh. I have been to many great macro diving destinations, but Lembeh has always felt like home to me.
The Lembeh Strait (A brief history)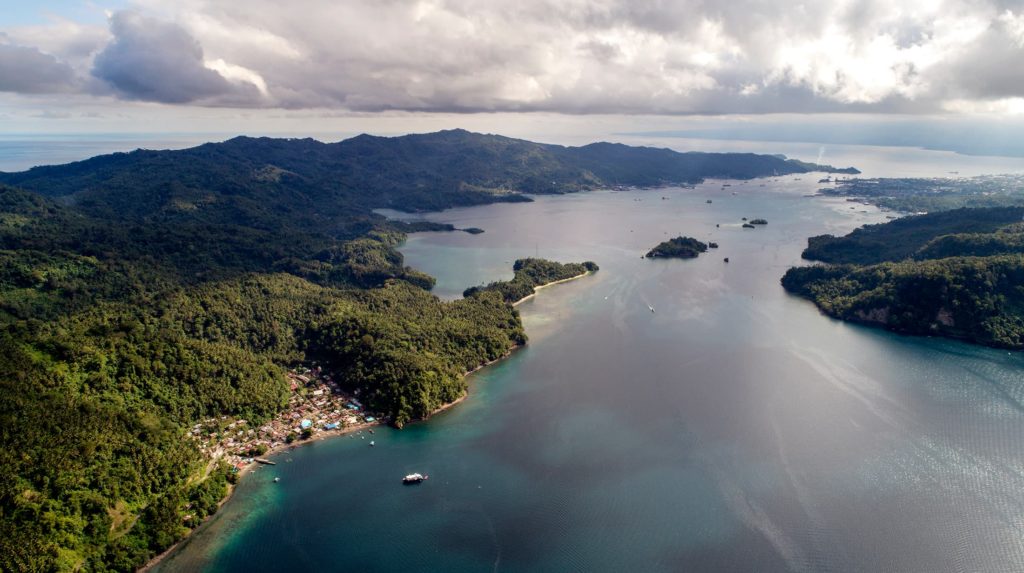 The Lembeh Strait separate the islands of Sulawesi and Lembeh. There are about 16 resorts that currently line both sides of the straits that cater to guests with different budgets and accommodation requirements. The strait is famous for muck diving and for the large variety of critters photographers love to shoot.
Muck diving has its origins in Papua New Guinea and involves diving in mud, sand or rubble for tiny critters that live within that ecosystem. For the past 20 years, the Lembeh Straits in Indonesia has been considered the muck diving capital of the world. The first dive resort there was built by KBR (Kungkungan Bay Resort), but what few know is that it wasn't built because of the macro/muck diving!
While researching for this article, I came across a wonderful blog by Maarten De Brauwer, a marine biologist with Curtin University whose work focuses on rare camouflaged species such as frogfishes and ghostpipefishes often found on volcanic sand. Within his blog is an article about the origins of muck diving and how it all started in Lembeh. I was shocked to learn that the Strait was once the best place in the region to see big stuff. The plankton rich waters attracted loads of mantas, sharks, dolphins and other large aquatic creatures! In 1996, foreign fishermen illegally installed massive fishing nets known as the "Curtains of Death". This essentially choked off the strait and literally killed everything that couldn't get past it. In 11 months, the nets caught;
1424 manta rays
577 pilot whales
18 whales
257 dolphins
326 sharks (including whale sharks)
84 turtles
And many other species of fishes such as marlin
It was after this that divers trained their eyes on the bottom of the ocean and realized that there was also a healthy muck/macro ecosystem for divers to explore. Very quickly after that, Lembeh became known as a mecca for underwater macro photographers.
My heart sank when I read about the dark history of Lembeh. You can learn more on Maarten's blog here .
In any case, let's move on to the happier points of this article!
The Resort
I have stayed in many resorts in Lembeh over the years and each have its pros and cons, I always enjoy my experience at each resort as hospitality within Indonesia is always amazing wherever you go. Having said that, in the past few years, I have made YOS Dive Lembeh (YDL) my home away from home while diving in Lembeh.
YDL is nestled on the mainland side of the Lembeh Strait (Across from Lembeh Island). This makes getting there easier than having to head across the water via a boat transfer, especially for late arrivals. It is situated within the village of Makawidey. The local children are a delight to watch as they play at the resort's floating jetty at times.
It takes under 2 hours to get there from Manado airport and the resort has vehicles and drivers to transport guests regardless of arrival time. There are a total of only 11 rooms. These comprise of 5 Beach View rooms, 5 Garden rooms and 1 large Beach Villa (honeymoon) room 
The Rooms and layout
I tell all my friends who choose to come dive with me in Lembeh that this isn't a 5 star luxury resort. It's rustic, comfortable, serene and with service from staff that makes you feel like family. Rooms are all at ground level and very close to the restaurant/dive area. There are no steps nor hills to traverse. This is important to me as the long dives can be quite exhausting. After a long day, I would prefer not to climb flights of steps, with or without gear!
All rooms are air conditioned and are incredibly spacious for a small resort. The first thing you notice (if you are a photographer) is the sheer number of power sockets placed throughout the room. I'm guilty of needing so many power outlets that I usually travel with multiple extension cords and powerboards. However, in this resort, anyone that needs to share a room with me doesn't have to worry! Hahah!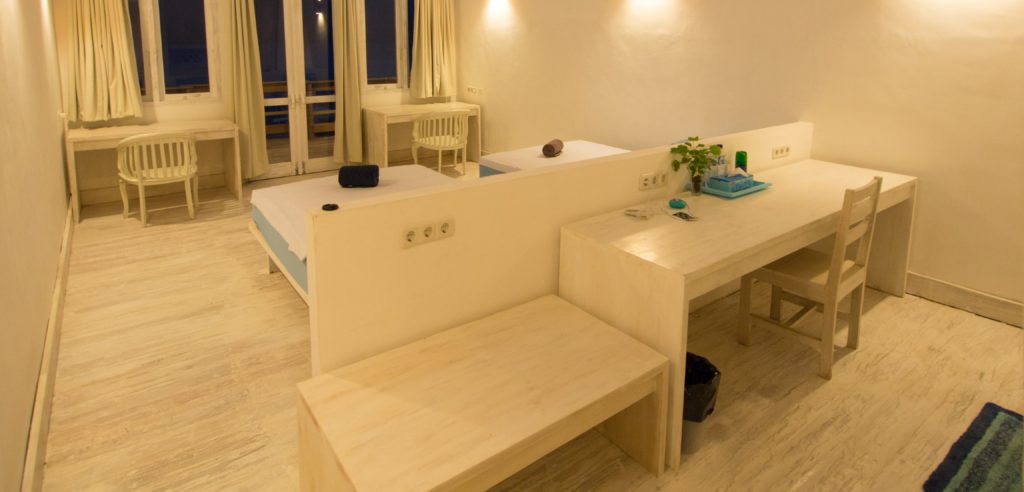 Bathrooms are basic but clean and spacious. The resort provides amenities such as toothbrushes and toothpaste for those that have forgotten to bring their own and hair dryers are available for those that need it.
There is plenty of workspace in the rooms for guests that want to sit down and edit their images or video clips. I have spent many hours there working on various projects for clients. Each room has a little seating area outside as well. The beach rooms have a spectacular view of the straits and I do enjoy watching the sunset and having drinks out on the balcony!
The Food
Where do I start? I have too many photos to share when it comes to the food here. The food is fantastic! For most leisure divers, a good meal is usually what keeps everyone happy, and there are lots to be happy about at YDL. The boat comes back after each dive so guests are able to have all meals at the resort. Breakfast before the first dive, a snack before the second, Lunch followed by the third dive. Dinner is usually at 7pm (unless arranged differently to accommodate night or blackwater dives).
I'll let the photos speak for themselves.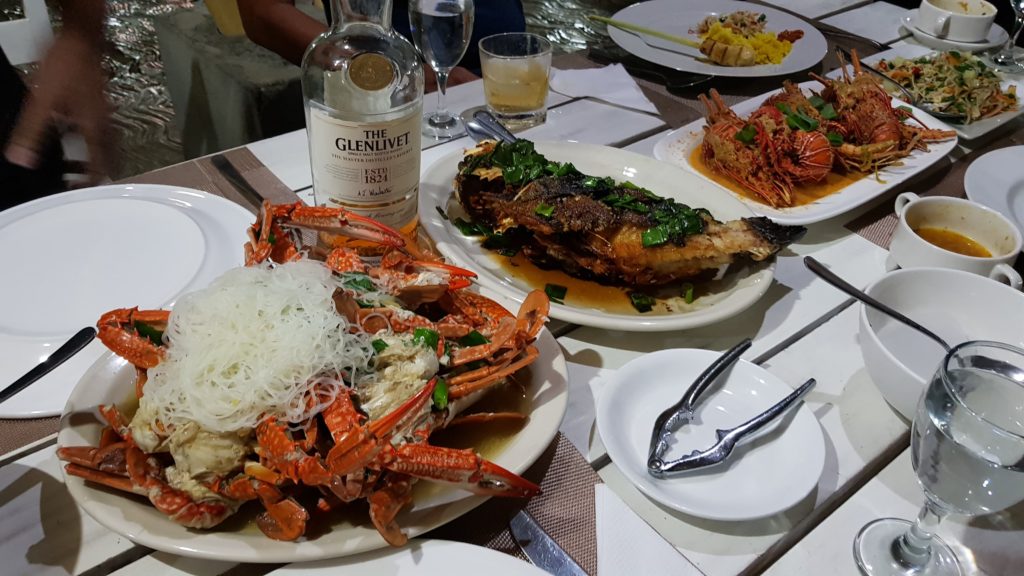 Lunch can be as simple as noodles and fried chicken, or various dishes are laid out for guests that can't decide
The Diving
This is probably the most important part to me and the main reason why I like coming here so much. I come to Lembeh usually to work and clear a shot list provided by a client. The dive operations and dive team at YDL are crucial to my ability to finish my assignments within a given time frame.
           – Many smaller boats
The resort has multiple smaller boats for guests and a floating jetty for easy access
Because the resort isn't large, YDL is able to use many smaller boats for it's dive operations. The benefits to me are many fold. For starters, I am capable of going with small groups to a dive spot without overcrowding, Scheduling dives are also so much easier this way. At this resort, nobody tells you what time you must come to dive. As long as the few people on your boat agree, you can go anytime you choose and plan your own day! You can also go wherever you choose. I have on occasion repeated a dive site on the same day to shoot a critter with different lenses. The few friends I had with me were agreeable and it was easy to work out a dive plan of our own choosing with just a few guests. Some days when things are quiet, I even have the whole boat to myself! Smaller groups also means less waiting for guests to resurface and get back on. Guests are paired either based on groups of friends or dive ability/air consumption. At YDL, there is no time limit per dive.
                  – Treated like Kings
Guests who are comfortable with allowing the experienced guides to carry their cameras don't have to lift a finger. Before each dive, the guides come up to guests to ask if their cameras are ready. The cameras are then brought from the camera table to the boat. After each dive, the cameras are brought back to the rinse tank as well if they need a battery change.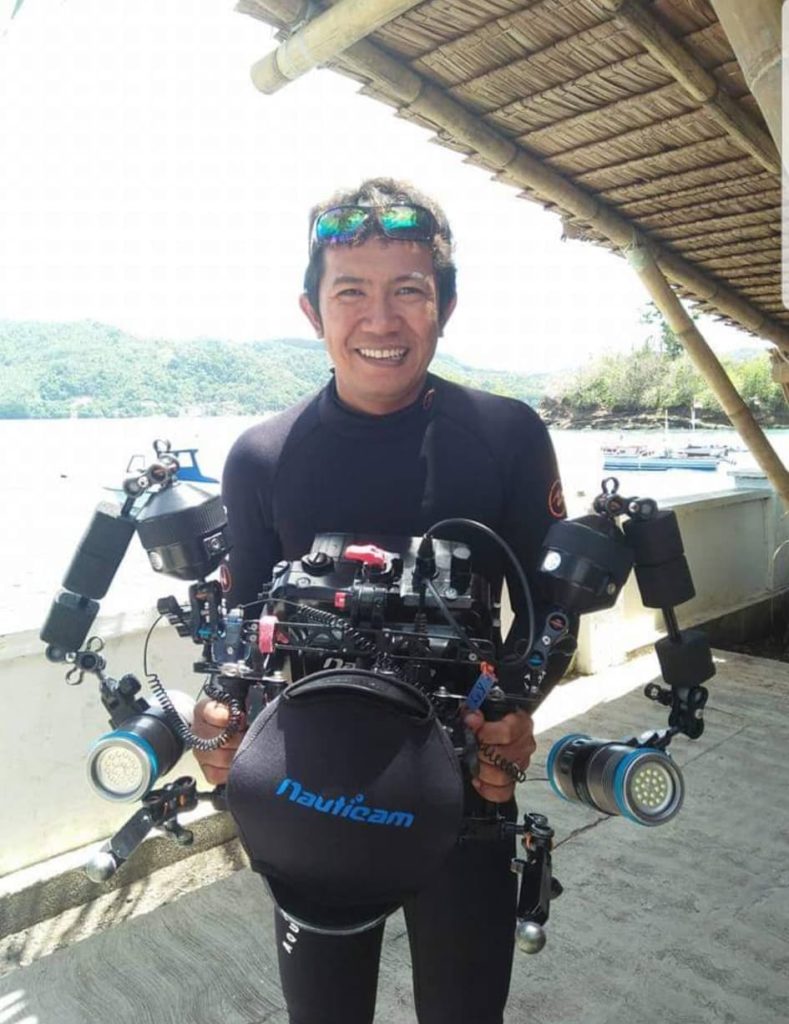 This is truly the most relaxed diving I have experienced anywhere, with dive gear setup for you and even cameras brought to your room if you need! Before each day, all your scuba equipment is prepared for you and placed on the boat. At the end of your trip, everything is washed and laid out to dry. The staff work hard to earn their tips and truly deserve it (Please don't forget to tip the staff and crew). Ask anyone who has stayed there before and they will tell you the same thing. I wonder if I am getting carried away, I still do want to get paid for the cinematography work assignments I do in Lembeh! LOL
Dives
YOS works on a ratio of one guide to 2 guests. There is of course an option for 1 to 1 guiding for a fee and I do this often because of work. Many guests have their own favourite guide and I suggest reserving your favourite guide early! Having said that, they are all extremely good spotters and have a good understanding of critter behaviour. I tend to follow the guides on Facebook to build up an idea of what I can expect to see or to ask questions about assignments I need to fulfill.  
As mentioned earlier, there is no strict limit to dive time. For those worried about meals, they are prepared and served hot when you get back from the dive instead of the buffet style at many other resorts. Just continue diving for as long as you would like (or till your air or batteries run low!).
As there are simply too many critters to list, the following video covers a compilation of critters you can expect to see while diving in Lembeh. These were all filmed over a week long trip while staying with YDL.
If you are keen on visiting Lembeh and staying at YOS Dive Lembeh Eco Beach Resort, Please use the following link to make a booking and enter the voucher code KAYBURNBLOG at checkout for a 10% discount