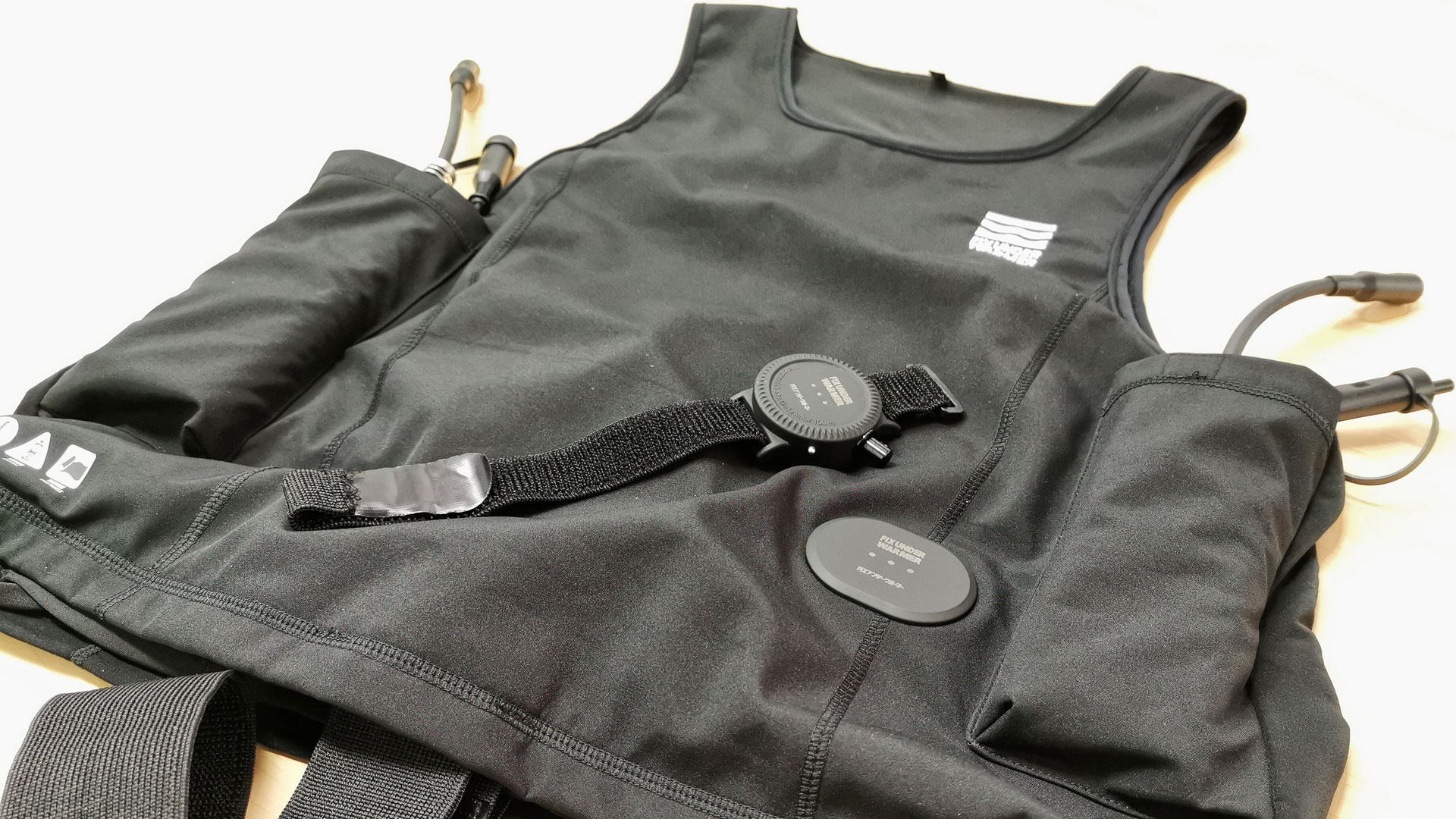 On a recent trip to Tokyo, I paid a visit to my long-time supporters and video lighting suppliers, Fisheye Japan to see what they have been working on. 
Fisheye Japan was founded by Mr. Kenji Ohmura in 1995 and is a company dedicated to supplying and manufacturing underwater photography and videography equipment. Over the years, their range of FIX Neo lights have gained a strong following with underwater videographers. I myself use FIX Neo lights for my macro work.
Although well known for their lights, Fisheye has extensive experience designing and manufacturing everything from underwater camera accessories to camera housings. I was excited to hear they were coming up with an entirely new product line and had to see for myself.
Meet the Fisheye FIX Under Warmer
Fisheye's new product line signifies their entry into the heated undergarment market. This new vest is designed to work under both wetsuits and drysuits. The unit I examined was an almost ready pre-production model that could still be subject to some minor design changes.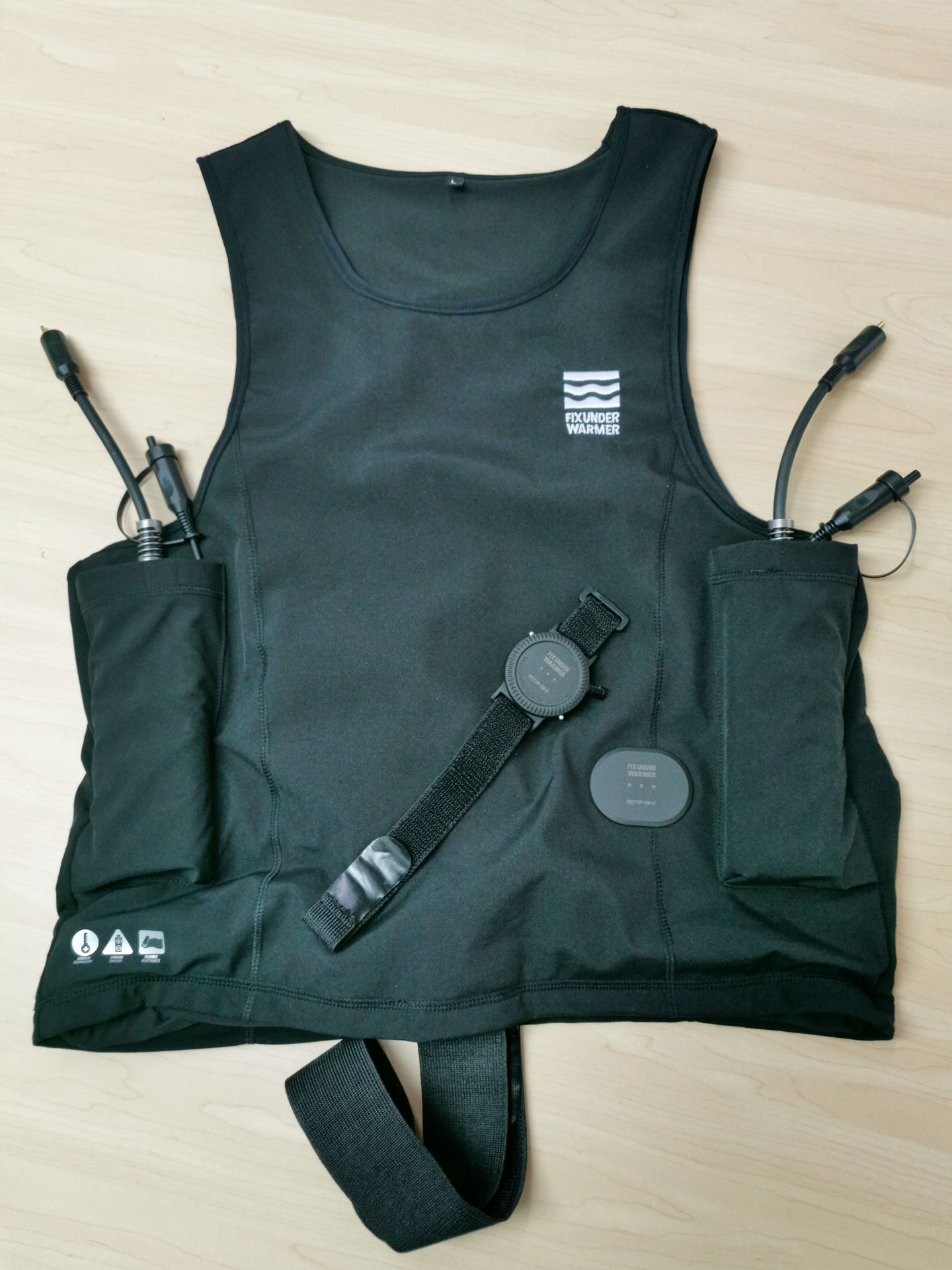 At time of writing, there are two versions planned for release. A DX version and an SD version. The SD version will be cheaper. It will have smaller batteries in the set, comes with a wired controller (no wireless connection) and has only rear heating. This first look only covers the DX version of the vest. The DX set has front and rear heating, wireless controller and comes with the option of larger (Type 5200) or smaller batteries (Type 2600).
First thing to note about this new heated vest is the fact that it heats both front and back (DX only). Most brands that create (wetsuit friendly) heating vests used to only have back heating elements. The logic behind this is the fact that with less muscle and fat on the back, the heating elements works better to reach your core from the rear. However, many divers find it more comfortable to have their front torso warmed instead. I have known divers who have worn their heated vests back to front in order to achieve this. The FIX Under Warmer solves this by giving you both and making it very comfortable indeed!
The material used feels heavy duty and wear resistant. It feels thinner than a neoprene vest but definitely sturdier than a rash guard. The vest also comes with a velcro crotch strap to keep it in place when worn. One of the unique advantages that this heated vest offers is the ability for it to be machine washed! In fact, I was told that the final packaging will include a laundry bag for the vest for washing purposes! This is extraordinary as I used to baby my other heated vest (from another brand) for fear of damaging the heating elements or built in receiver!
First impressions are that the FIX Under Warmer is a very well designed and thought out heated vest that is made from quality materials. The workmanship is great.
Wireless Control
The wireless controller fits on the wrist and is held in place by a heavy-duty Velcro strap. The controller is simple and only has one button to activate the vest and cycle through the three heat settings. These are 45C, 50C and 55C. A long press turns the vest on and each individual button press after that cycles through the heating modes. The chosen mode can be seen via the 3 little LEDs on the controller itself. It is rated to 100m depth, far deeper than what most divers will need. Charging of the controller is done via a dock which is powered via USB. Charging takes about 2 hours and if used everyday, the controller can last up to 2 weeks on a single charge.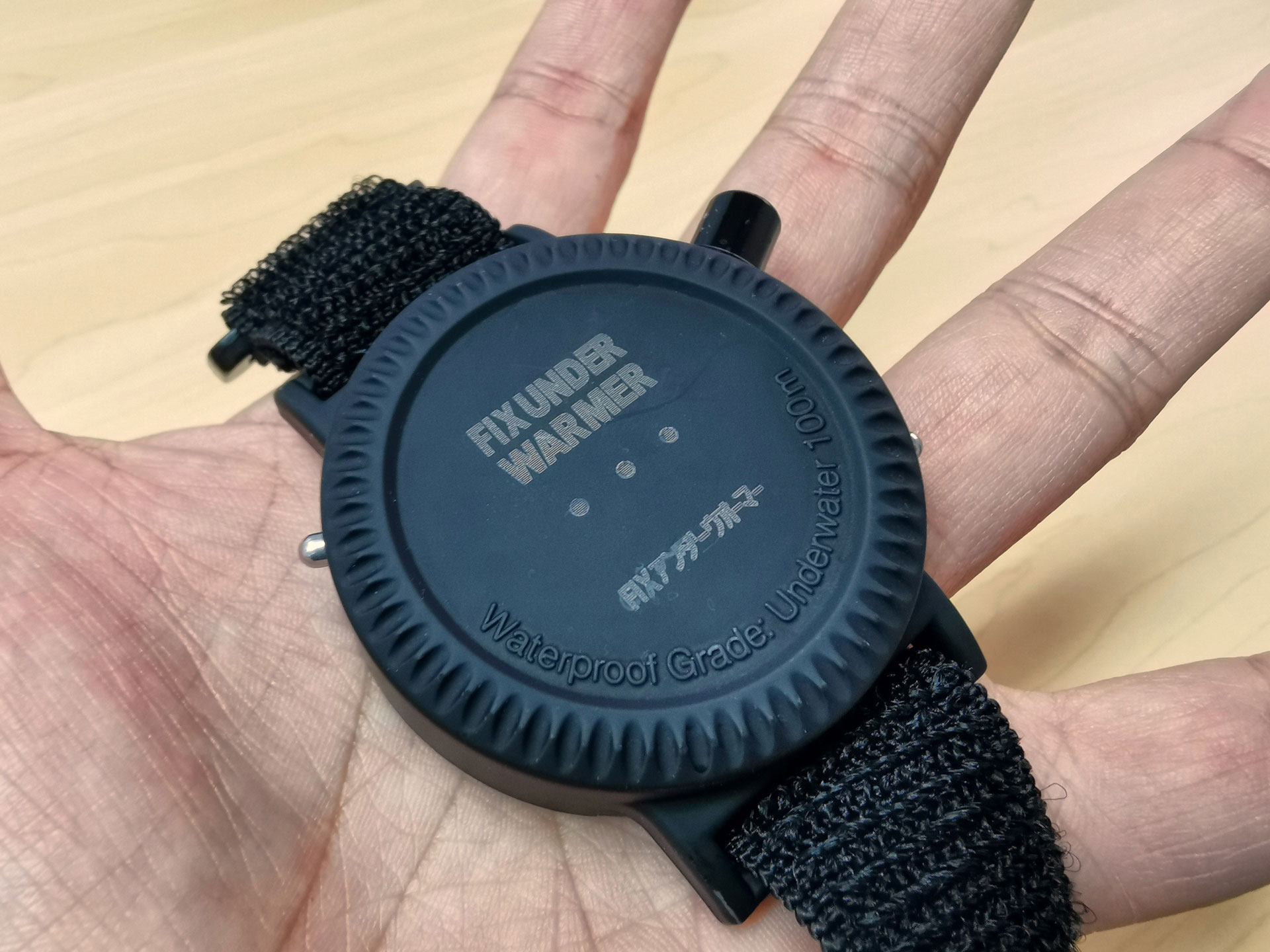 The receiver has been thoughtfully placed on the front left side of your stomach. This allows for closer proximity to the controller and is positioned in a comfortable location that won't press uncomfortably onto the body. Each setting change including on and off operations is accompanied by a vibration from the receiver to notify the user of the operation status. The receiver also has LEDs to indicate operational status and heat levels.   
Receiver is small in size and sits on the bottom left side of your stomach. The receiver vibrates and has LED indicators.
Batteries and charging
Batteries come in two versions. The DX Type5200 set will include two of the larger high density Lithium Ion batteries The large batteries are rated at 58Wh and will last for 150 mins on the highest setting, 180 mins on the medium setting and a whopping 312 mins on the lowest setting! This should be plenty for a full day's worth of diving.
The connectors and cables are really thick and heavy duty. The battery end of the cable is protected by a metal spring to keep it from bending excessively. Battery contacts are also protected by an attached cap for storage.
The bigger batteries are fairly large and weigh about 500 gr each (300 gr for the small batteries). This should be taken into consideration when adjusting for buoyancy. Smaller batteries in the Type2600 set are rated at 29Wh and give a runtime of 72 mins at the highest heat setting, 90 mins on medium heat and 150 mins on the lowest setting.
Charging times for the larger battery is approximately 3.5 hours from empty. The smaller battery will recharge in 1.5-2 hours. As with most rechargeable batteries, they should last for about 500 charging cycles before needing to be replaced.
I have yet to test the system but with both front and back heating, I suspect even on a low power setting, the vest should keep the user fairly toasty. Although designed for a variety of conditions, heated vests should not be used as a substitute for proper thermal protection in the form of a wet or dry suit. It provides an additional level of comfort and tolerance especially during long dives.
Product Development
In my interview with Kenji San about the development of the FIX Under Warmer, I was surprised to learn how many revisions the original design went though. The vest is a result of 3 years' worth of research, development and testing. Even the stitching was revised to improve resistance to wear with a rigorous testing regimen. Many of these changes were implemented as a result of listening to suggestions and improving on issues faced by users of other brands of heated vests. Prototype testers also contributed to a significant part of product development. This is not an item that was rushed to market. A lot of thought was put into the vest and considerations were made for both drysuit and wetsuit users.
As mentioned earlier, there may still be some design changes before the vest is officially launched. I was told that there may be a possibility of a zippered design for easy wear and removal.  
I was lucky enough to be privy to Fisheye's future development plans for their heated garments and the future looks exciting indeed! Although I can't mention any of these ideas in this article, I can tell you that it involves harnessing the latest technology to improve comfort and usability of heated garments underwater. I can't wait! What I can say however is that the FIX Under Warmer will not be a stand-alone item. I was told that it will eventually be part of a modular system which will include heated hoods, gloves and shorts as well. 
Pricing and availability
The release date for the vest is expected be in mid-May for the domestic market in very limited quantities. June should see a worldwide release via Fisheye distributors. There will also be a very limited run of these so be sure to pre order one if you are interested!
The DX set (Type5200) with large batteries is expected to retail at approximately US$599 and US$549 for the DX with smaller batteries (Type2600). The SD version should retail at US$369. Extra batteries are also available for purchase and I was told they should run at approximately $100 per piece (yet to be finalized). The prices mentioned are for the Japanese market and may change of course depending on your regional taxes and shipping costs.
I look forward to testing one of these as soon as a release version is available! Thanks, Fisheye, for giving me a preview of your latest product!