I remember the 2nd day of my Open Water dive course in Miami, learning to use the tables and thinking that there MUST be an easier way. That's when my instructor first told me about dive computers…. I was stunned. Forget about fins! I wanted to buy one immediately! LOL
Dive computers have come a long way since then. Basic versions were (and generally still are) large and clunky devices. Most were monochrome and over time, a few color LCD/OLED models appeared on the market. These were generally expensive and not targeted at entry level divers. Times have changed and since then, new smaller and cheaper basic dive computers are widely available, although still using monochrome LCD with a button activated backlight.  
Enter the Mission One dive computer by Atmos. A mid-range recreational dive computer in a watch form factor that is very reasonably priced and does more than most other dive computers on the market! I was fortunate to be able to test one on a dive trip to the Banda Sea in Indonesia.
Looks / Form Factor
The Mission One comes in a watch form factor and is currently only available in black. A white model is expected to be released soon. Straps are made of silicone which come in black as standard. Colored straps are available for purchase at a reasonable MYR138 (Approximately USD$34) a set.
The bezel is made of stainless steel and sits on a fiber reinforced case. The watch/computer weighs 90 grams and feels good on the wrist. There are 4 large stainless steel buttons which are easy to press even with gloved hands. Three buttons on the right and one on the left.
The menu system is extremely simple and intuitive. More so than many other dive computers I have used. The button on the left functions as a back button. On the right, the middle button is used for selection while the top and bottom buttons allow you to scroll up and down through the menu structure. Pressing the middle button on the right takes you into the menu with these options:
SETTING – SCUBA (dive mode) – FREEDIVE (freediving mode) – GAUGE (gauge mode) – LOGBOOK – COMPASS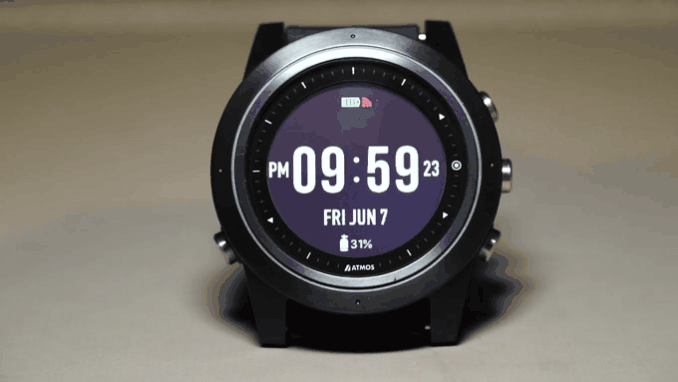 Dive Modes
This is a recreational-only dive computer which solely computes air and nitrox mixes. It does not allow for other gasses or trimix. The computer uses the bühlmann decompression algorithm, similar to what Shearwater computers use. You can set how conservative you would like it to be although I recommend keeping it at the default "MID" setting. I tested the LOW setting and found it so liberal it was slightly alarming. Great for those that like to stay deep although safety should always be a diver's number one priority.
Scuba mode can be activated by pressing the middle button on the right of the computer and entering the SCUBA option from the menu. The computer will also automatically enter dive mode when submerged. The depth at which the computer activates can be set within dive settings.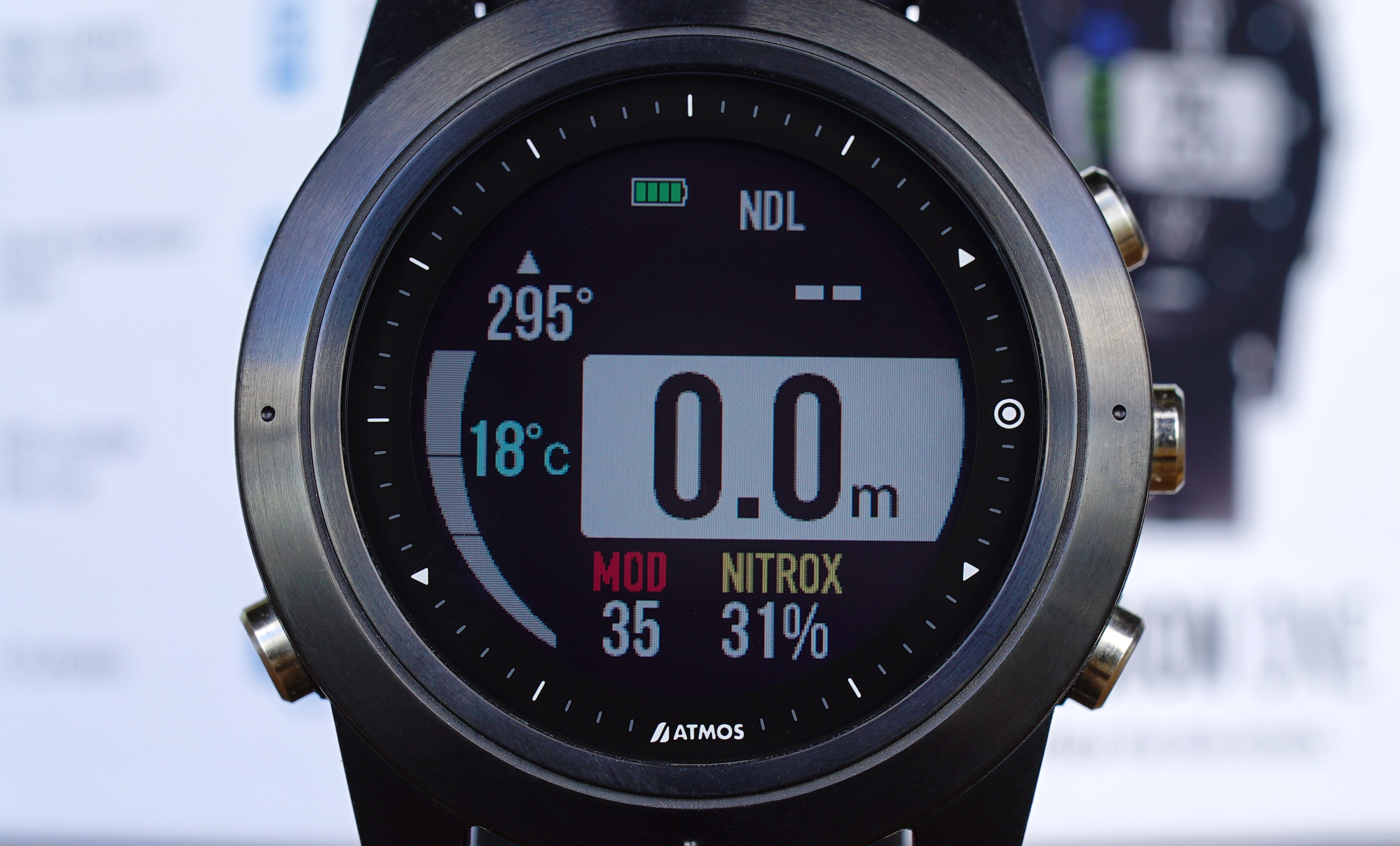 The dive mode interface is simple and easy to read. The most prominent figure shown is the depth reading. On top of this is the NDL reading and below that is the dive time. One of the interesting features of the Atmos Mission One is the always-on compass. The compass reading is located on the top left of the display. Headings can be marked by holding down the right middle button to activate or deactivate the mode and pressing the top button to lock in a heading (and pressing the bottom button to remove the mark). On the left of the depth reading, the display changes between the rate of accent (when swimming up towards the surface) or the water temperature.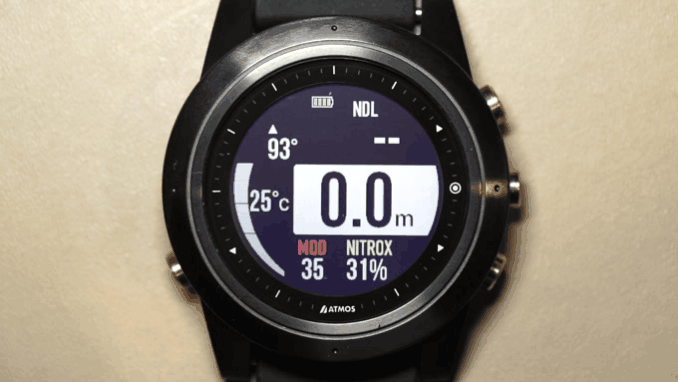 Warnings and alerts appear at the bottom of the screen to let you know of important information such as Depth alarms, low NDL and if deco stops are needed. This warning temporarily obscures the dive time which isn't critical information in most cases. A strong vibration can also be set to notify the diver of alerts.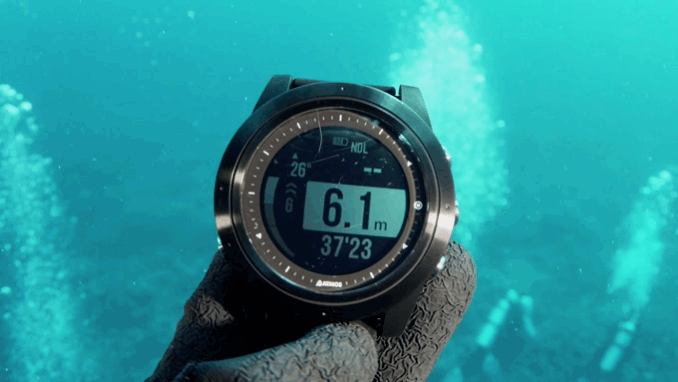 Other modes available are gauge and freediving modes. These were not covered in my tests for this review.
Display
The display on the Mission One is based on a transflective color LCD. This means that the screen is viewable both under bright sunlight or in dim conditions via a backlight. The backlight can be set at various brightness levels and may be activated by wrist movement! This is particularly useful for night dives as button presses are not needed to turn the backlight on. A twist of the wrist will activate a sensor which turns on the backlight. The length of time the backlight stays on can be preset in the menu (Up to 60 seconds).
This is one of the features that sets the Mission One apart from dive computers in similar (and even higher) price brackets. Most watch style dive computers still use traditional monochrome LCD screens and require a button press to activate a light which is an annoyance during night dives, especially for photographers who need to hold a camera.
App / Dive Log / GPS
Another standout feature of the Mission One is the built in GPS. Dive entry and exit GPS coordinates are marked and recorded if the user waits for the GPS icon to stop blinking before entering the water and after surfacing. GPS does not work underwater of course and needs to be free of interference. The Mission One also has a dive site guide which can show nearby dive sites and allows you to add one to your list.
At the end of your dive trip, you may back up your dive log to your Android device or iPhone via the Atmos app. The dive computer itself can store up to 100 logs.
At the time of review, the iPhone app was slightly more polished than the Android app. The Android version allows for a download of the dive log with basic dive information including a graphical representation of the dive profile, air and water temperature, max and average depth and dive time (including dive start and end times). The iPhone app includes the ability to add more information such as starting air and remaining air left and dive site notes such as wave, current and visibility.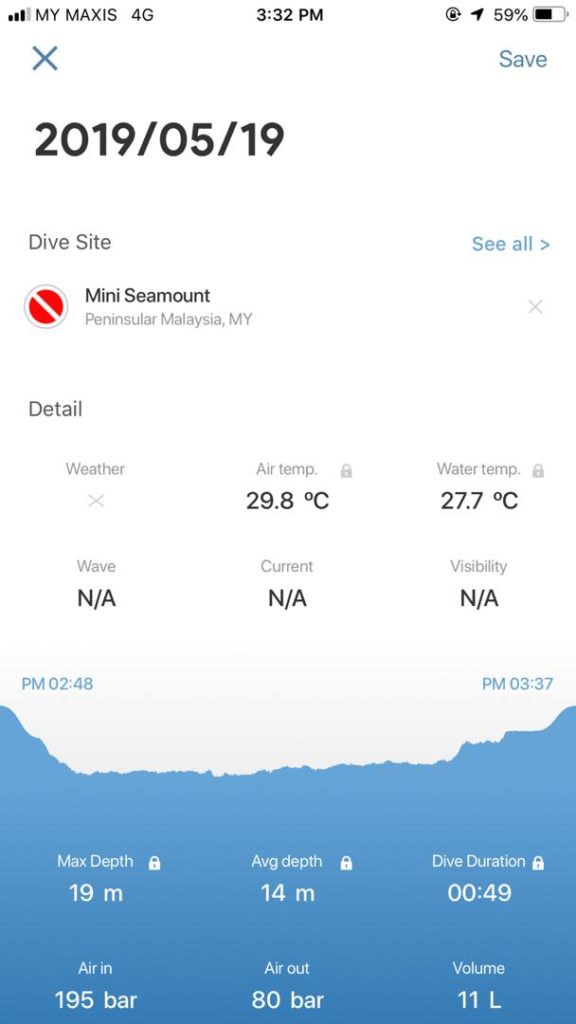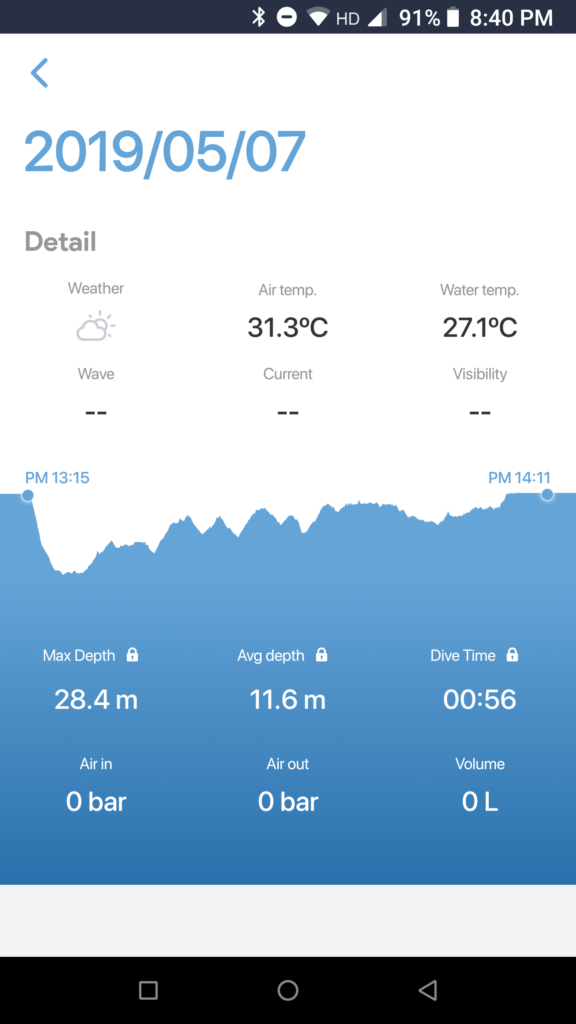 I do believe that the app is in its early stages of development and will continue to improve over time. Hopefully future versions will include more functionality.   
Daily Use / Battery Life & Notifications
Atmos designed the Mission One to be used as a daily watch and not just a dive computer. This is evident from the smartwatch like functions it has incorporated. The Mission One is capable of receiving notifications from your phone (iOS only) from various apps such as WhatsApp, WeChat, Facebook, etc. This is similar to what the Garmin Descent MK1 dive computer can do. Unfortunately for Android users, it only works with iOS at the moment.
Pressing the top button from the watch face brings the Mission One to the notifications screen. Pressing the bottom button scrolls through the notifications received.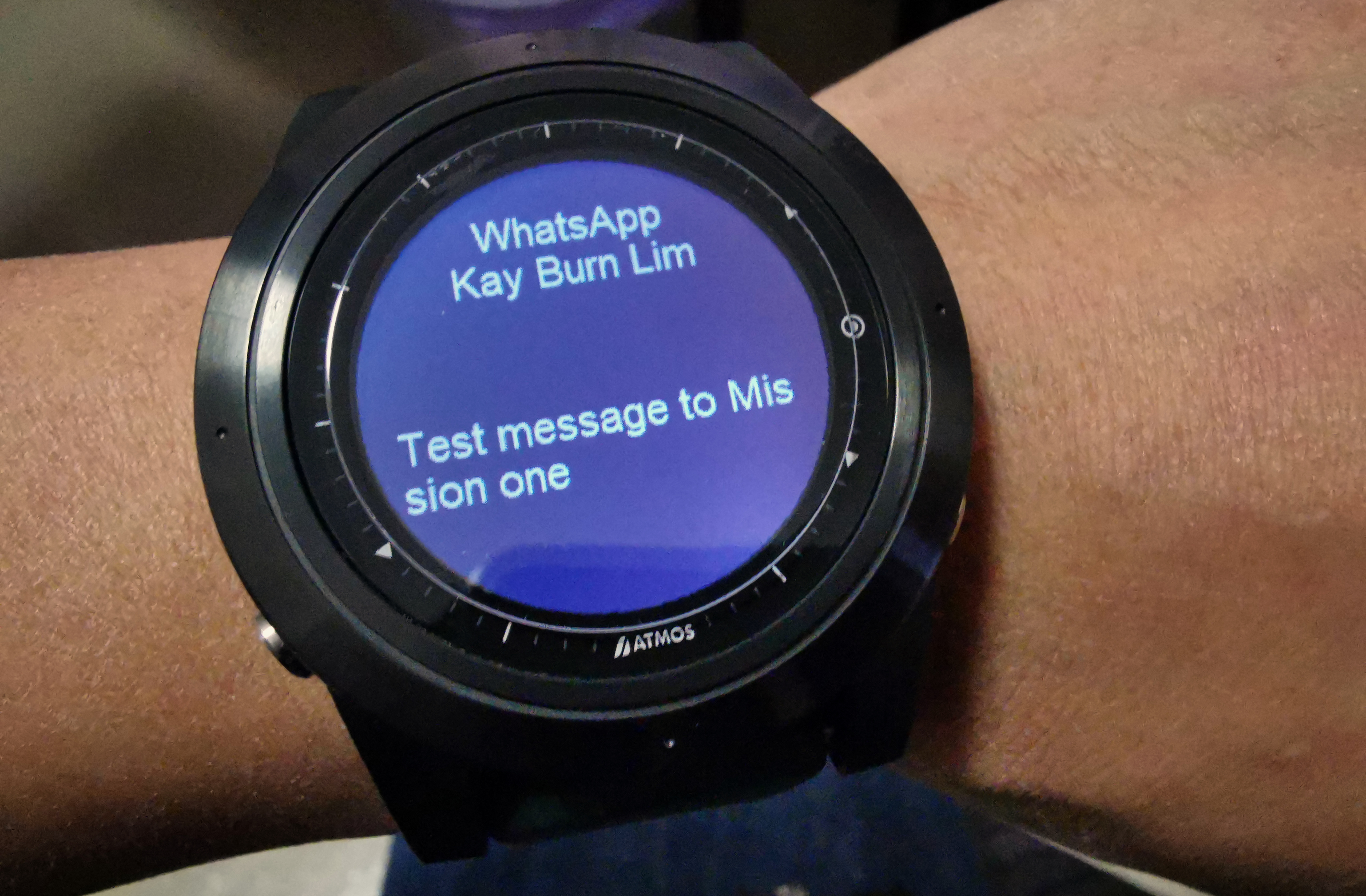 Battery life is also pretty good. 40 hours in dive mode with the backlight off, 15 hours in dive mode with the backlight on "mid" setting. In watch mode, the battery lasts for up to 15 days. Charging is achieved via a USB cable with a clip attached which connects to the contact points on the back of the Mission One.
The battery status indicator is a simple 4 bar icon. Hopefully an update couple include a battery percentage display for a more accurate readout.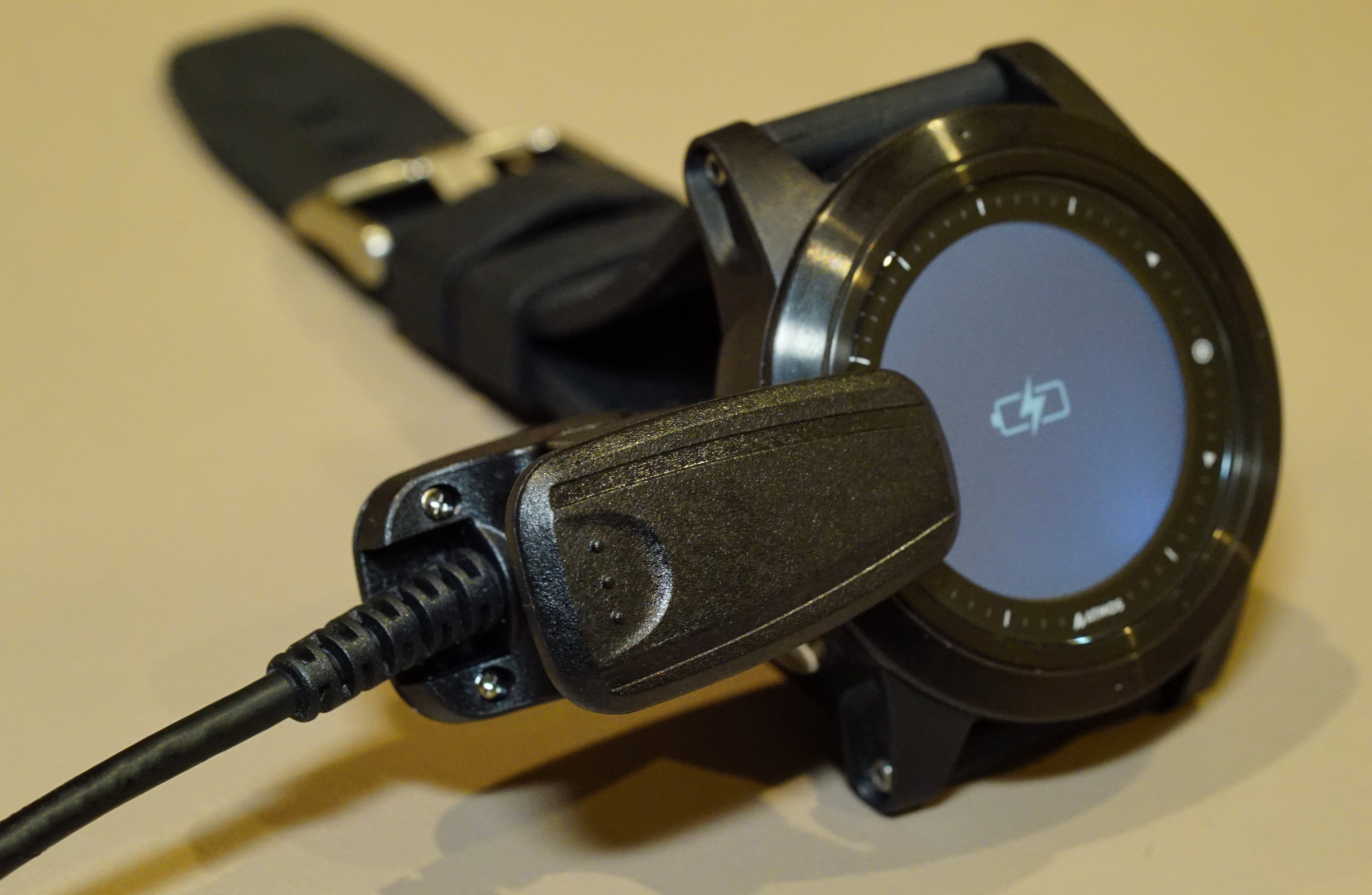 Conclusion
I was really happy with my experience testing the Atmos Mission One. As far as recreational dive computers go, you really can't get better value for money than this right now!
Here's a summary of the features I liked about the Mission One;
Built-in surface GPS (with the ability to mark entry and exit)
Bluetooth pairing with phone for dive logs
Notifications from phones (iOS Only)
Colour TFT daylight readable display
Always-on compass
USB rechargeable with decent battery life
Vibration alerts (I hate audio beeps!)
Wrist activated backlight
Upgradable firmware
Price! (For a dive computer with all the features listed above)

Dislikes were few. These were limited to a very basic phone application (which will likely be improved in future app updates) and lack of the phone notification function for Android users such as myself. I also wish the backlight was slightly brighter. None of these dislikes were really deal breakers though.
There are a couple of things I would like to see in future models. Air integration is currently not available on the Mission One. This function is something I use often with my other dive computers. Some divers may not need this capability, however as an underwater photographer/cameraman, being able to see all my essential data at one glance is important. This should of course be used in addition to a backup gauge.
It would be nice to see the Android app catching up with the iOS version. I have been told this is in the works, hopefully in a future update soon.
The recommended retail price for the Mission One of just MYR1888 (Approximately USD$455) makes this recreational dive computer extremely attractive. Atmos has incorporated a lot of functionality into a computer that isn't even available on much more expensive higher end computers. I for one am happy to have this piece of kit as part of my dive gear and would gladly recommend one to recreational divers.
If you are interested in purchasing one of these units, they are available on my storefront here. Do sign in as a member for the discounted price!